NUCH DKU(U)CH Adoreas Red Jippi
Female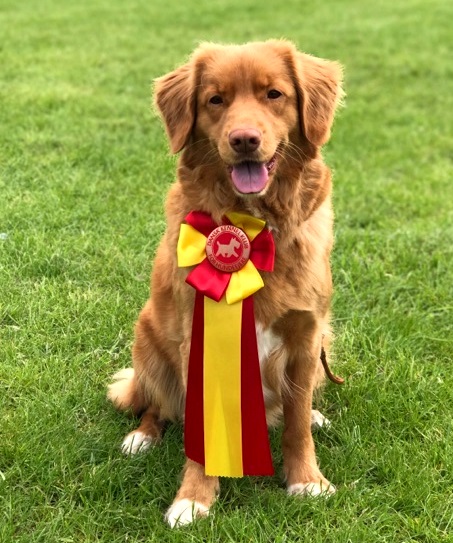 Born: 17.02.2015
Reg.number: NO41463/14
Sire: NL CH NL youth CH Kasomor's Roy to Cashel Vale
Dam: NUCH DKUCH SEU(U)CH Danish Winner-17 Adoreas Red Caprice
Hips: B
Elbows: A
Eyes: Distichiasis (1 feilstilt øyehår) 13.11.20
PRA: A
CEA: A (by parents)
Results: Norwegian and Danish Show Champion from limited showing. CAC at NKK Kristiansand at her very first show. Best of Breed at big shows in Norway and Denmark. Judge Torunn Sørbye in 2018: «meget god type str, tiltalende hode og utrykk, vel vinklet, gode krops prop, bra benstamme, sterk lend. beveger seg lett og med god steg lengde, bra pels. «Judge Ricky Lochs-Romans in 2018: «Very nice typ. young lady. Lovely balance between head, body and bone. Lovely head. Expr. sweet gentle. Like to work. Lovely ang. If I have a wish a little bit white on the nose and tail.»
Jippi is one of the overall best dogs we have breed.
Her human mom, Anneli, describes her like this: «Jippi has an exceptionally nice temperament. She is willing to learn, calm indoors and very playfulness outside. She loves tracking, jogging and to join her family on most of the things they do. She likes to crawl into the children`s bed at bedtime, loves to swim – and snow is the most fun she knows!
She grew up with children and a cat. Jippi often join me at work, and she works as a therapy dog ​​and naturally tunes in to people who are struggling»
Co-owned with Anneli and family in Kristiansand.
Litters: Adoreas Red R-litter. She will hopefully have a 2nd litter during 2022.
Photo album: comming soon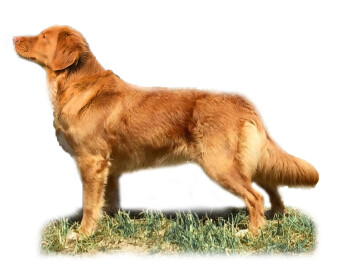 Pedigree Adoreas Red Jippi:
NL CH NL youth CH Kasomor's Roy to Cashel Vale

HRCH U-UD NSDTR US AKC CH Springvale's Roy'll Flush CDX MH WCX

Can Ch
Glenmaurs Casey of Elias
WC MADC AAD FM
Ch. Harbourlights Rip Tide
Ch. Westerlea's Sprig of Holly
BISS CAN/US CH
Sagewood's Silver Shadow
CDX WC
Ch. Westerlea's Mountain Echo
Ch. Westerlea's Audacious Wave

OTCH CH Kasomor's Wack 'Em N Stack 'Em SH WCX CGN

Can Ch Seabright's Red Alert WCI JH AGX AADC SGDC CD
Ch. Berdia's Shylo So High
Ch. Foxgrove Set Sail for Ruaview
Ch Westerlea's Kasomor Trio CDX WCX SH
Westharbour's Roter Jaeger
Ch. Jagador's Sophie Mahone

NUCH SEU(U)CH DKUCH Danish Winner-13 Adoreas Red Caprice

DKUCH SEU(U)CH Tuldahl's Noah
NORDUCH NUCH DKCH SU(U)CH SV05 NORDV08 Lauvstuas Mascot Keehnu
DKCH DEVDHCH DECH Hyflyer's Invincible Max
NUCH NVCH SVCH Lauvstuas Karmenzita
Happy Trails Frieda Jenten
Happy Trail´s Commander Douglas
River Ducks Unika Desti

NUCH SEU(U)UCH Adoreas Red Alpha

NORDCH DKCH SU(u)CH FINCH NUCH DKKC07 DKJUBV07 Andelokkerens Røde Oskar
UVV98 EUV99 DKCH NUCH KBHV99 KBHV01 Shaggy Toller's Great Gizmo
Tueholt Red Rhapsody In Blue
NUCH SEU(u)CH Logrekroken´s Belle Kimba
Sunlit Nils Nickolay Zilver Kess
Jenwill´s Nadia Divisi