03.07.19
Adoreas Red Q-litter is born. Info HERE and in the PUPPY BLOG!
03.06.19
NUCH DKU(U)CH Adoreas Red Kindra is confirmed in whelp! We are so happy! The pups are expected around the 4th of July, and ready for active homes the last weekend in August.
16.05.19
Tollergutten Adoreas Red Janko leter etter ett nytt hjem. Mer info HER!
02.05.19
NUCH DKU(U)CH Adoreas Red Kindra has mated the Swedish male Sigge. More info when the UL is taken.
24.04.19
Adoreas Red Q-litter is hopefully soon to be planned. Kindra has started her heat!
05.02.19
We expect puppies. More info HERE!
19.01.18
The ultrasound today showed no puppies this spring between Embla and Eik!
31.12.17.
2017 har vært et fantastisk år for Kennel Adorea. Vi har levert mange flotte valper og vi har fått mange flotte resultater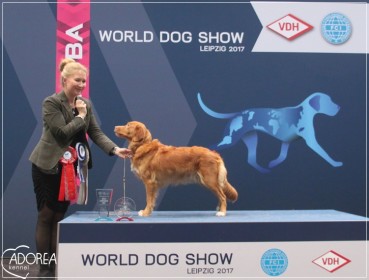 hvor vi må nevne Adoreas Red Jasita som både ble B-godkjent Redningshund (jobber nå mot A-godkjenning) og Norsk UtstillingsChampion knappe 2 år gml. Det har også vært Adoreas Red Indias store suksess år. I februar fødte hun 7 flotte valper. I august ble hun stilt for første gang på lenge på den store Svenske Tollarspecialen (en av de største Tollerutstillingene i verden) og der gikk hun til topps og ble Beste Tispe. Hennes datter, Nea, debuterte der og ble BIS-valp. I September ble hun Beste Tispe med Svensk Cert og CACIB i Høgbo Bruk i Sverige, og dermed Svensk Utstillingschampion. Senere i september ble hun Best i Rasen med et Norskt CACIB på NKK Rogaland. Datteren og sønnen, Nea og Nilo, ble BIR-valp og BIM-valp der. I november ble hun Beste Tispe begge dager med 2 Danske CACIB og tittelen Dansk Vinner 2017 i Herning, Danmark. Hennes datter, Noomi, fikk tittelen Dansk Junior Vinner 2017. På Tysk Vinner ble hun nr 2 i Championklassen, men hennes datter, Noomi, vant tittelen Tysk Junior Vinner 2017. Sønnen Nilo ble nr 2 og Vise Junior Vinner 2017. Adorea vant Oppdretter Klassen på Tysk Vinner. Så dagen etter på Verdens Vinnerutstillingen i Leipzig gikk India til topps og ble beste tispe og fikk tittelen Verdens Vinner 2017 med et tysk CACIB. 5 CACIB denne høsten! Sønnen og datteren, Nilo og Noomi, ble nr 2 i juniorklassene og ble begge Vise Junior Verdens Vinnere 2017. På Verdens Vinner vant Adorea Oppdretterklassen og India vant med sin avlsklasse! På Norsk Vinner senere i november ble India nr 2 i Championklassen, men hennes sønn, Nilo, gikk til topps og ble Beste Hannhund med tittlene Norsk Junior Vinner 2017 og Norsk Vinner 2017. Vi toppet det med at Adoreas Red Kalici ble Beste Tispe med Cert og Cacib og titlene NUCH og Norsk Vinner 2017! For et år! Dette er noen av mange flotte resultat! Takk til alle valpekjøpere som tar så godt vare på alle Adoreanere!
GODT NYTTÅR ALLE SAMMEN!!!! Vi gleder oss til et spennende 2018 med foreløpig ett, kanskje to kull på vei!
/
The year 2017 has been amazing for Kennel Adorea. We have delivered wonderful puppies and recieved many great results! I have to mention Adoreas Red Jasita that both were B-approved Rescuedog (and is aiming for the A-approval) and Norwegian Show Champion 2 years old. It's also been Adoreas Red India's big sucess year. In February she delivered 7 promising pups. In August she became Best Bitch at the big Swedish TollarsSpeciality. Her daughter, Nea, became BIS-puppy! In September she became Best Bitch with Swedish CAC and CACIB, and Swedish ShowChampion. Later in September she became Best of Breed with a Norwegian CACIB at NKK Rogaland. Her daughter and son, Nea and Nilo, became BOB and BOS puppy. In Herning, Denmark, in November she became Best Bitch both days with 2 Danish CACIB's and the title Danish Winner 2017. At German Winner she was 2nd in Champion Class, but her daugther, Noomi, got the title German Junior Winner 2017. Adorea also won Breeders Class. At the big Word Winner Show India became Best Bitch with German CAC and CACIB and got the title WORLD WINNER 2017. 5 CACIB in 4 countries this autumn! Her son and daugher, Nilo and Noomi, both became Vice Junor World Winners 2017. Adorea won with our Breeder Class and India won with her Progneny Class. At Norwegian Winner 2017 India became 2nd in Champion Class but her son, Nilo, becaem Best Male with CAC and the titles Norwegian Junior Winner 2017 and Norwegian Winner 2017! To top the day, Adoreas Red Kalici became Best Bitch with CAC, CACIB and the titles NUCH and Norwegian Winner 2017! What a year! This are some of many good results! Many thanks to all our great puppy buyers that take care of their Adoreans!
Happy New Year everyone! We look forward to 2018 with one, hopefully two new litters on their way!
28.12.17
NUCH DKUCH Adoreas Red Embla has today been mated with Blazing Sun Covering Ground. More info here!
18.12.17
NUCH DKUCH Adoreas Red Embla has started her heat! More info here!
09.12.17
NUCH NW-17 Adoreas Red Kalici became 4th Best Bitch with a Finnish CAC at the Nordic Winner Show in Helsinki!
18.11.17
Dogs4All – the big Norwegian Winner Show 2017! BOB with CAC and CACIB (2 year and 1 month old) NUCH Norwegian Winner 17 Adoreas Red Kalici and BOS (9 months old) Norwegian Winner 17, Norwegian Junior Winner 17 Adoreas Red Nilo!!!
09.11.17
World Winner Show 2017 in Leipzig, Germany! DKW-17, NUCH, SE(U)UCH, DKUCH Adoreas Red India became Best Bitch with CACIB, CAC and the title: World Winner 2017! I'm over the moon!!! Kennel Adorea also won Best Breeder and Best Progneny Group! And India's son Adoreas Red Nilo became 2nd in Junior Class (Vice Junior World Winner) and India's daughter DKJW-17, GJW-17 Adoreas Red Noomi also became 2nd in Junior Class (Vice Junior World Winner). And Adoreas Red Lava 4th in Junior Class. And Adoreas Red Nea was among the two last that weren't placed in the big junior bitch class!
08.11.17
German Winner Show -17 in Leipzig, Germany! DKJW-17 Adoreas Red Noomi became German Junior Winner 2017 today! She turned 9 months old last Friday! And got the title Danish Junior Winner 2017 on Sunday! She also gained the JuniorCAC today. And 2nd in Junior Class came Adoreas Red Lava!!! We had top 2 in Female Junior Class! In Male Junior Class Adoreas Red Nilo became 2nd with reserveJuniorCAC. The last Adorean to attend today was the N's mum DKW-17, NUCH, SE(U)UCH, DKUCH Adoreas Red India! She became 2nd i a strong Champion Class!!! What a day! All 4 Adoreans in top 2 in their classes! And to top the day Kennel Adorea won with the Breeder Group!!!
05.11.18
Danish Winner Show -17 in Herning, Denmark. Kennel Adorea got 2 Winner Titles today! NUCH, SE(U)UCH, DKUCH Adoreas Red India Best Bitch, BOS, CACIB (4th in 4 shows) and the title Danish Winner 17! Her daughter Adoreas Red Noomi Best Junior Bitch with CQ, reserve CAC and the title Danish Juniorwinner 17! Adoreas Red Nilo, Ibsen, Goldenbamse, Lava, Nea and Gia all got Excellent
04.11.17
CACIB show Herning, Denmark. Adoreas Red India BEST BITCH, BOS and CACIB! Her 3rd CACIB at 3 shows in a row in 3 countries!!! Her son Adoreas Red Nilo won Junior Class with CQ and became 4th BEST MALE with reserveCAC! He turned 9 months yesterday! And his sister Adoreas Red Noomi became Best Junior Bitch with CQ and Adoreas Red Nea 2nd Best Junior Bitch! Out of 12 junior bitches! Our Breeder Group consist of India, Noomi, Gia and Nilo and we won with HP and got so much nice words from the judge that I still smile!!!
10.09.17
What a day for Kennel Adorea!!! Adoreas Red Jasita became B-approved, Rescue Dog! At NKK Stavanger NUCH SE(U)UCH DKUCH Adoreas Red India vent all the way to BOB with her 2nd CACIB in a week. And she was shortlisted among top 6 in a very large group finale. At a NKK show!!! My star! Adoreas Red Ibsen won Open Class, and in the junior handler competition later he and Tiril manged to get a ticket to the NM in juniorhandling! Adoreas Red Lana won Junior Class with CQ and Adoreas Red Kindra won Intermediate Class with CQ. NORDJW-17, NOJW-17, KBHJW-17 Adoreas Red Kasey was unfortunately limping, but she got an wonderful critique! India won Champion Class with CQ, so we had 4 class winners! In Best Bitch India was nr 1, Kindra nr 2 with CAC (cert) and reserve CACIB and Lana nr 5 with reserveCAC! And our breeders class got HP (India, Kindra, Lana and Ibsen) and the judge was full of kind words about Kennel Adorea! In Puppy Class Adoreas Red Nea was BOB-puppy and Adoreas Red Nilo BOS-puppy. Adoreas Red Millie 2nd Best Puppy Bitch!
02.09.17
At SKK Høgbo Bruk, Sweden, today Adoreas Red India became Best Bitch with CAC and CACIB! She is then Swedish Show Champion (SEU(U)CH) and Nordic Show Champion (Norwegian and Danish Champion before). So happy! India's critique: «Impressive overall type. Top quality girl. Good head type, good body, well muscled, strong rear end, working well with the handler, tail used well on the move, lovely expression.»
26.08.17
A fantastic day for Kennel Adorea! Adoreas Red Camille got a Rally Obedience CAC (cert) today in Arendal.
At SKK Ljungskile Adoreas Red Lotta won junior class with Excellent.
At NRK Hadeland sister Adoreas Red Leila came 2nd in junior class with Excellent. Great debut for the sisters who become 9 months old today!
06.08.17
Tollarspecialen 2017, Sweden. What a day! NUCH DKUCH Adoreas Red India BEST BITCH at Tollarspecialen 2017!!! One of the biggest Tollershows in the world! In puppy class 6-9 months Adoreas Red Nea became nr 1 and sister Noomi nr 2, both with HP! Later Nea became BIS puppy 6-9 months! What a debut!! Goldenbamse got HP in Championclass, but not placed among the 4 best. In the female Champion class we had two Adoreans attending and India won with Jasita nr 2!!!! Both with HP! In the Best Bitch Class India vent all the way winning Best Bitch! She Best Bitch and her daughter BIS-puppy! I'm a really proud Breeder today!!
Will update more later……