Breeder of Nova Scotia Duck Tolling Retriever and Rhodesian Ridgeback.
Situated in Arendal, south in Norway.

Toller: Oppdatert 07.11.22: Alle valpene i Adoreas Red U-kullet er solgt! Adoreas Red Qela har vært på ultralyd og Adoreas Red V-kullet ventes ca 3. desember. Valpene er leveringsklare i slutten av januar 2023. Info om mor og far kommer! Viktig at dere leser hva vi krever av våre valpekjøpere og hva vi vil vite om dere før dere sender oss mail. Link til valpesiden med all info HER! We expect Adoreas Red V-litter around the 3rd of Desember.

Ridgeback: Oppdatert 22.09.22: Alle valpene er solgt! Vakre, gode Adoreas Ridged Nestor klarte vi ikke levere fra oss, så han ble igjen her enn så lenge. Så han koser vi oss med mens vi ser etter det perfekte deleierhjemmet her på Sørlandet. Å ha han hjemme en stund, trene han og knytte bånd ser vi bare på som en stor fordel. Se mer info om kullet HER! Vi planlegger nytt kull i 2023! Ta kontakt om dere er interessert!/ Adoreas Ridged N-litter was born the 12th of July 22! The puppy-page HERE!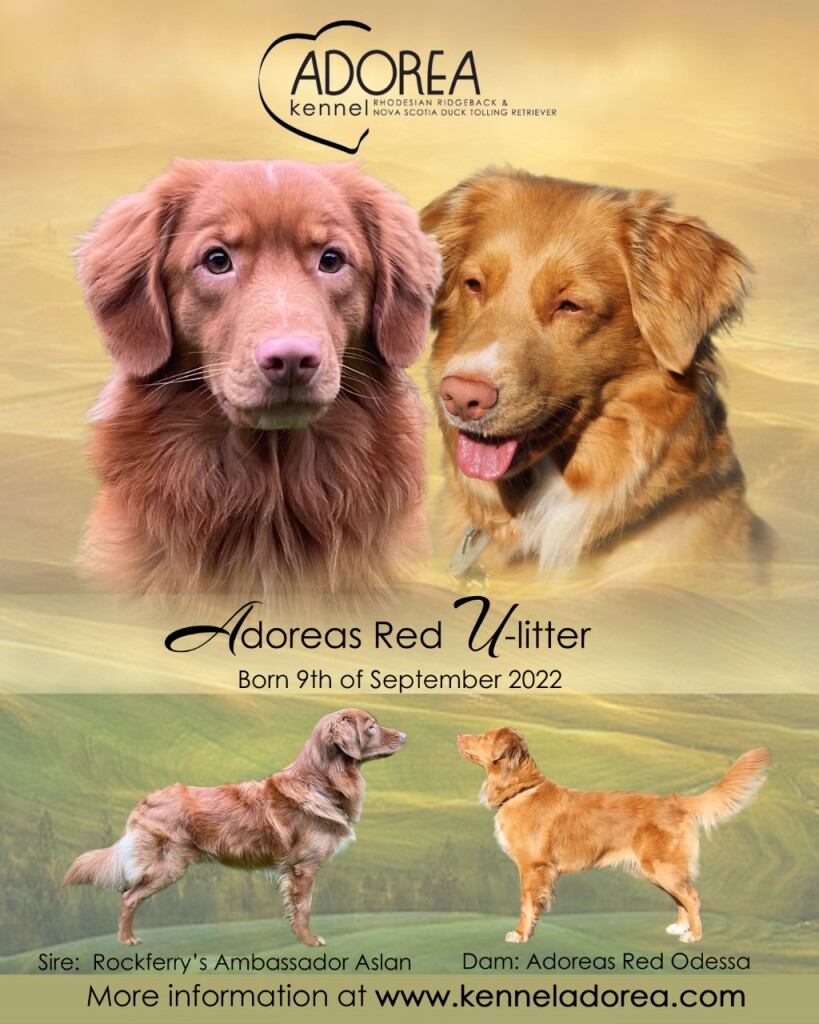 NKK Lillyhammer: Norwegian Winner Show 2021!

Adoreas Red India BEST OF BREED and NORWEGIAN WINNER 2021!

Adoreas Red Gossip Girl NORWEGIAN VETERAN WINNER 2021!

Our young girl Megarden's Adéle (Gossips grand daughter) NORWEGIAN JUNIOR WINNER 2021! And CAC!

Kennel Adorea Best Breeders Group with HP and super critique. (India, Lava, Gossip, Kalici)

Adoreas Red Rubella BEST OF BREED PUPPY and short listed in the large BIS-puppy finale!