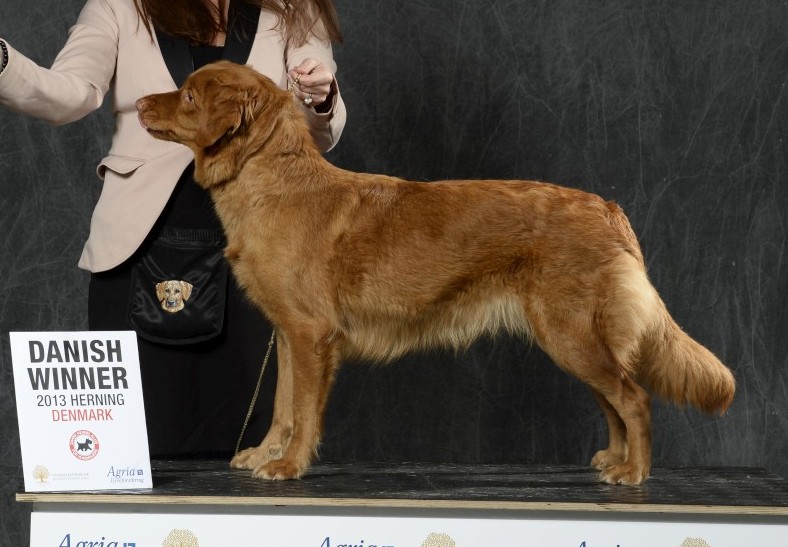 Bitch
Born: 29.03.2009
Reg.number: NO41522/09
Sire: DKUCH SEU(U)CH Tuldahl's Noah
Dam: NUCH SEU(U)CH Adoreas Red Alpha
Health: HD:A ED: A/0 PRA: B CEA: A DE: Clear. Eyes: Clear (20.09.16)
Show results: Norwegian, Swedish and Danish Show Champion. Danish Winner 13. Vice World Winner 10 (2nd best junior bitch). Vice Nordic Winner 10 (2nd best bitch). Vice Norwegian Winner 11 (2nd best bitch). As you can see she has been close to several winner titles, so I was so happy when she finally got the Danish Winner title 13. At her 2nd World Dog Show, in 2014, she became 3rd best Champion Bitch. We are so proud of what this girl have acieved in the show ring.
Obedience results: NKK's Bronze Mark. We have not attended any competitions after the bronze mark test.
Agility results: 12th place with 10 faults, 14th place (out of 29) with 2 faults. She is so fun to compete with, but I'm not the best handler so many times one small mistake/sign from me and she missed a top placement.
Other: Summer 2010 we attended a hunting course and that vent really well. The trainer said this about our girl: «She is a hard worker who does not give up».
Litters: Mom to the successful Adoreas Red G-litter. Gossip and Gia became show champions at their first shows (only few days) after turning 2 years old. Goldenbamse has 2 CAC's and is an examined therapy dog. Geotellus has started his therapy dog eduacation.
Adoreas Red J-litter. They are only 1,5 years old, but Jasita is already in her education to be a rescue dog.
Owner: Kennel Adorea
Living on breeders terms with Hanne and Ina.
Photo album: HERE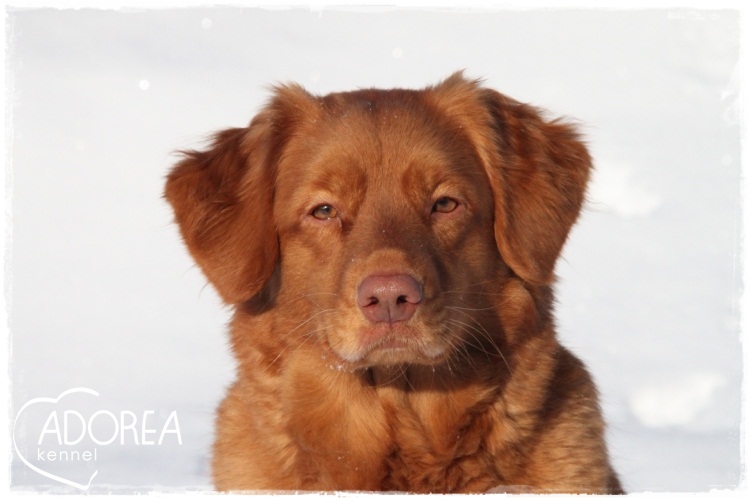 Pedigree:
DKUCH SEU(U)CH
Tuldahl's Noah
NORDUCH NUCH DKCH SU(U)CH SV05 NORDV08Lauvstuas Mascot Keehnu
DKCH DEVDHCH DECHHyflyer's Invincible Max
CACH
Harbourlights Rip Tide
Hyflyer's Foxy Roxanne
NUCH NVCH SVCH
Lauvstuas Karmenzita
NUCH SVCH
Sunlit Kevin Mc Tawish
NUCH Anya Acadia Ayr
Happy Trails Frieda Jenten
Happy Trail´s Commander Douglas
Lyonhouse Andrew
Drøgstas Alley-Cat
River Ducks Unika Desti
Kare Riverduck of  Flottatjärn
Rödahunds Saltstänkta Noette
NUCH SEU(U)UCHAdoreas Red Alpha
NORDCH DKCH SU(u)CH FINCH NUCH DKKC07 DKJUBV07Andelokkerens Røde Oskar
UVV98 EUV99 DKCH NUCH KBHV99 KBHV01Shaggy Toller's Great Gizmo
DKCH Dienesmindes Odin
DKCH VV95 NLCH EUV95 DECH DEVDHCHKBHV94 KLBCHBEJGSG WA94 Shaggy Toller's Ayla-L-Ayla
Tueholt Red Rhapsody In Blue
DKCH NUCH NV-88 Flyingtollers Boomer
DKCH Tueholt Red Lovable Sunflower
NUCH SU(u)CHLogrekroken´s Belle Kimba
Sunlit Nils Nickolay Zilver Kess
Jalna´s Zamzam Zilver
Bay of Fundys Kessie to Sunlit
Jenwill´s Nadia Divisi
NUCH Jenwill´s E Tello
Kido´s B B