Born: 28.07.09. Dam: Rex Ventors Mea Adorea Sire: SUCH NUCH SV-04 Djungelkattens Wasco da Persbrandt
Natural mating (in the garden together with Mikael Persbrandt. Big smile)
Status birth: 10 puppies born. 4 boys (1 stillborn and 1 DS) 6 girls
Staus A-litter: 8 puppies. 2 boys (correct) and 6 girls (1 ridgefault with kinked tail and 1 kinked tail)
Puppy blog HERE
Pedigree futher down the page
Statistics with more updated result info see HERE
Adoreas Ridged Alhwin

Male
Correct ridge
Health status: HD:A ED:A
Results: 1 CAC, BOS. Several BOB puppy, BIS-3 puppy
Owner: Hege Johansen and Charlotte Walldén in Trondheim, Norway.

Adoreas Ridged Athos

Male
Correct ridge
Health status: Not x-rayed yet.
Results:
Owner: Bjørghild Mikalsen in Bergen, Norway.

NordJW-10 Adoreas Ridged Arwen

Female
Correct ridge
Health status: HD:A ED:A DM: Normal N/N
Results: Excellent. CQ. 2 CAC. Agility awarded. See more here
Owner: Kennel Adorea. Mom to Adoreas Ridged C-litter
Living at breeders terms with Merete Olsen, Tvedestrand
Her own page at Kennel Adorea HERE

Adoreas Ridged Almea

Female
Correct ridge
Health status: HD:A ED:A
Results: 1 CAC, BOS. 6th place in Agility
Owner: Elin Skaali Gundersen in Tvedestrand, Norway

 

Adoreas Ridged Akeela

Female
Correct ridge
Health status: HD:A ED:A
Results: Excellent, CQ, 4th Best Bitch
Owner: Marianne Winsent in Bergen, Norway

Adoreas Ridged Aurora

Female
Correct ridge, kinked tail
Health status: HD:A ED:A
Living an active outdoor life all year around up north
Owner: Mattis Nyheim in Nordreisa, Norway

Adoreas Ridged Akilah

Female
Correct ridge
Health status: None
Owner: Kjersti N. Støle in Sandvika, Norway

Adoreas Ridged Anella

Female
Ridgefault, kinked tail
Health status: None
Results: Compete in Agility
Owner: Helene Skuterud in Ås, Norway
The Ad we had for the litter:

Beautiful Rex Ventor Mea Adorea will finally be a mom. She has been the world's best play aunt for Adoreas Toller puppies and I am convinced that she is the world's best mom.
Mea is a well built, harmonious bitch with a lovely head and expression. She has several BOB-puppy, several CQ and best bitch placements, one CC and BOB and a BIG3 placement.The best thing she knows is to run in the forest. Tracking is also a favourite.
She is an easy dog to live with, so happy and kind. She loves children and puppies, and she is so careful with those. Mea has always been healthy. She comes from a litter where it is both exhibition champions and a bloodtrack champion.

I saw Djungelkattens Wasco da Persbrandt the first time when he became Norwegian champion at NKK Bjerke in 2006. I remember I thought he was a very impressive, powerful and well builth male. Since I have followed with him, and I met him again at Anna-Karin's when I was at WW08 last summer.
Wasco has 7 litters and I have met many of his great offsprings. He has given very good temper. Wasco is without fear, has a lot of courage and curiosity. His offspring also have a good HD/AA statistics (link).

Mea and Wasco were incredibly sweet and harmonious together when they played in the garden at Wasco's place before mating. Wasco's owner exclaimed that they were meant for each other. They found each other right away, and it is the easiest mating I've seen.
It was nice to meet him in the home situation of children and my Toller puppy. He was so cool.

The litter's pedigree would include some of the most winning Ridgebacks in Scandinavia.
Mea's mom is the wonderful Int Nord Ch Pl SvCh NordJV-03 EUW-05 EUW-06 SV-05 NV-06 NORDV-06 Rex Ventor Helinn. Behind her is also the well-known mulitchampion Bear Star Diamond Willow.
Wasco dad is the handsome BISS-01-05 INTUCH NORDUCH DKUCH NV-01-02 LUXUCH KBHV-03-04
Ukukhanya Scout The Red Baron.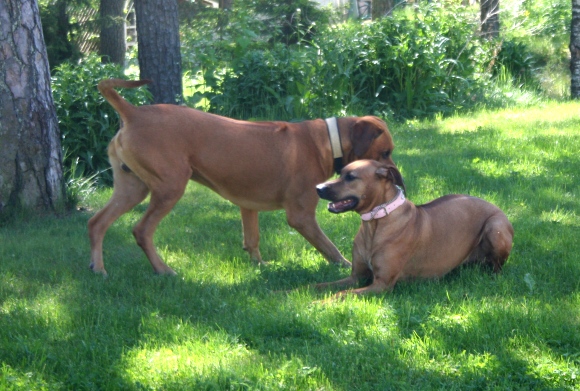 Pedigree Adoreas Ridged A-litter:
SUCH NUCH SV-04
Djungelkattens Wasco Da Persbrandt
BISS-01-05 INTUCH
NORDUCH DKUCH NV-01-02
LUXUCH KBHV-03-04
Ukukhanya Scout The Red Baron
USCH
Karoskloof Bayezana Naka
ZACH
Kulima Love That Red Of Karoskloof
ZACH
Karos Nomsa Of Karoskloof
USCH
Nomvuyo Tikkun
Nomvuyo Kwesi
ZACH
Delphia Delishus Monsta Of Nomvuyo
NORDUCH FinV-03
Zumeli's Ashiki
SUCH
Marsabit Melikora
AUCH
Trezridge Uekoto
Ulundi Ushaba
DKCH SCH WW94 EUW94
EUW95 PCH DCH(VDH) LP1
Kijasaman Dikimba Zuri
DKUCH KBHV-91-92
Mushana Jango
DKUCH KBHV-92-93-95
Kijasaman Bine

Rex Ventors Mea Adorea

SuCh SvCh
Rex Ventors Jabailey
Fin Ch
Ozubi´s Royal Gala
GB Ch
Vizara Shemesh of Shaban
Ozubi´s Kukumbuka Dubu
Nyassa Legacy
GB Ch
Rex Ventors Beks at Nyassa
Kwekwe Kula of Nyassa
SvCh Int Ch NordCh DKCh
PlCh NordJV-03 EUW-05-06
SV-05 NV-06 NORDV-06-08
Rex Ventors Helinn
MultAT SCCP Int Lux Ch
Chipangali´s Kadan
Int MC Ch
Tandiwe Merigal´s Mad Gamble
AT Int Ch
Agnes Visconte de Simon
Nord Ch
Rex Ventors Daquila
Holl Lux Ch
Guus of Bo Kama
Multi Ch Multi Winner
Bearstar Diamond Willow