Adoreas Red U-litter was born the 9th of October 2022. 2 boy and 4 girls.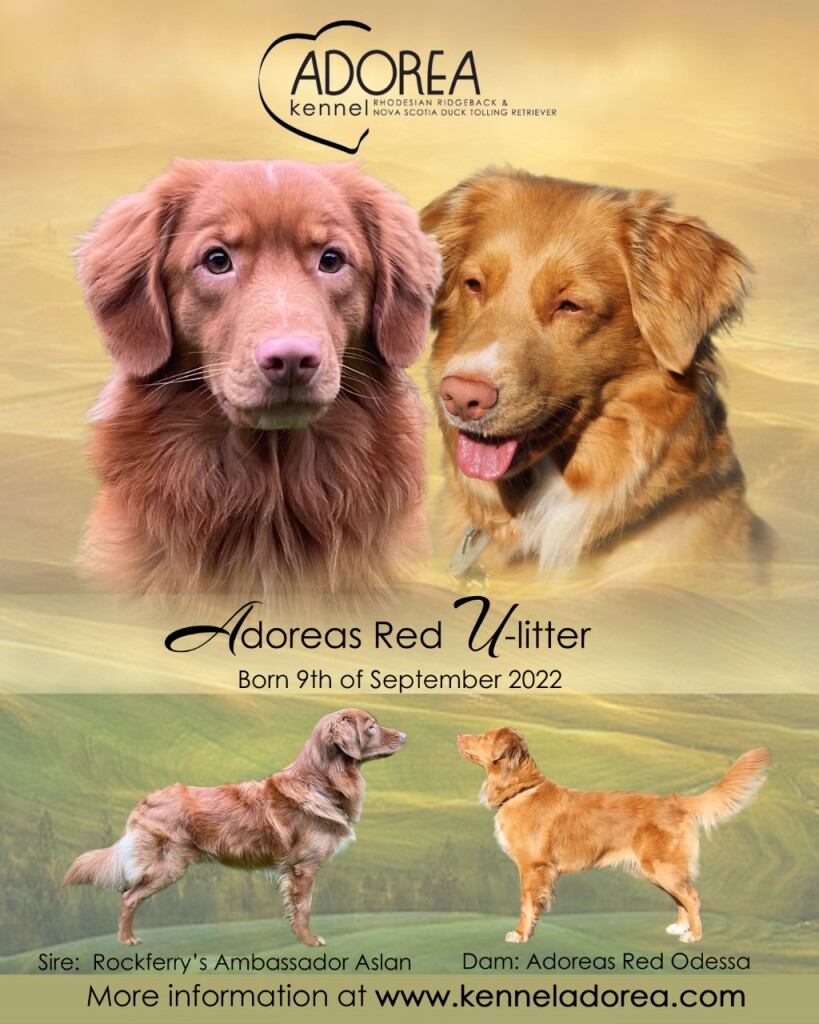 Adoreas Red Odessa


Na'amans Gudvin Grateful

Born: 10.10.2015
Sire: 

DKCH SECH(U) NOCH NORDCH INTCH(U) DEVDHCH DKJV12 NORDJV12 KLBV13 DEVDHESG15


Redforesthunter Wallace
Dam: C.I.E. NORDW-18 NVW-20 NUCH SEU(U)CH DKUCH RL1 RL2
Adoreas Red Gossip Girl
Hips: B
Elbows: A (0)
PRA:B, CEA:A, DE:Clear by parental
Eyes: Clear (April 2021)
Results: Norwegian, Swedish and Danish Show Champion. NKK's Bronze mark in Obedience. 2x1st prizes in Rally Obendience RL1.
Litters: 1 (Adoreas Red Q-litter)
Kindra's page: HERE
 <3   <3    <3   <3

Born: 29.12.2015
Sire: Thicha's Arox Aron
Dam: Naámans Be My Angel
Hips: B
PRA:A DE:Clear by parental
Eyes: Clear (April 2021)
Results: VG
Litters: 0. This is his first.
Mom to Adoreas Red S-litter is our smart girl Kindra. She is a good tempered girl that has a very high energy level and loves to work. She is what we can call a workaholic. She is trained in hunting, agility, obedience and rally obedience. She has 2 1st prices in Rally Obedience Class 1, and NKK's Bronze tag in Obedience. She also loves to do tricks and to help mom Anne Karin with the laundery. She has done really well at dogs shows, and she is a joy to handle in the showring because she loves it. She also work as an assistant at Hundelykke's Puppy Courses as a grown up with a good body lanuage for the puppies to meet. Because she is so smart and so very active she is not the easiest dog to live with.
Kindra is from our successful K-litter. They are all good working dogs, and all 5 siblings are show champions.Two of them have Winner titles as well. And most important: They are healthy and all with a very good temperament.

Sire to our S-litter is the handsome male Colin. Colin is a tall male with a dark red coat, and he is an eyecatcher. And a teddy bear. He is a calm dog with a steady temperament and a pedigree that I like. He has been healty all his life. Colin lives as an active family dog that barely not are shown in the show ring. His owners have no interest in showing. They describe him like this: «Colin er en stabil og god gutt. Han er en kul fyr. Veldig læringsvillig og trives med oppgaver. Enten det er sosialisering med andre hunder eller lydighet hjemme. Vi har drevet litt med sportrening noe han var god til. Han er en fin familiehund som trives med sin plass i familien. En mer tålmodig hund skal du lete lenge etter tror jeg. Han er snill i mot andre hunder og mennesker. Han kan fint bli med deg hjem så lenge han får kos og mat. Han hører på andre enn bare oss her hjemme. Han er også veldig glad i barn. Han har nærmest blitt maskoten i bhg.«
Our active girl, Kindra, needed a male that was calmer in temperament, higher in legs and PRA: A. And of course healthy and with a pedigree that I like.
This is Colin's first litter.

We expect active, playful Tollers with a friendly temperament out of this combination. Working Tollers that should be trained in a dog sport. 
---
The puppies will preferably be sold to puppy buyers who want to work with their dog. Whether obedience, agility, tracking or hunting training. They must have a plan for their new puppy. A Toller that uses both head and body is a happy Toller! Send us an e-mail at gunntove@hotmail.com if you are interested.
All the pups shall have a name that starts with «S»!!! The puppy buyers decide the name, and we want the «S-name» to be their everyday name.

Vi søker muligens flere deleier til dette kullet, og helst på Sørlandet. Vi må se an hvordan de utvikler seg. Mer info HER!
HER ble jeg intervjuet i Hundesport om det å være fôrvert.

---
Pedigree Adoreas Red S-litter:
Na'amans Gudvin Grateful
Thicha's Arox Aron
Henk Red Label From Nova's Power
Boston From Nova's Power
Darling Golden Blackberrys
Thicha's Beautiful Nikki Shakira
Shaggy Toller's Sa-mi's Finney
Lauvstuas Snowflake Zuper Nova
Naámans Be My Angel
N UCH NV-05 NORDV-06
Sunlit Ivan Peapeleus
Nordwart Peleus
Sunlit Pamela Peanut
Bella Bumble-bee
Rödrävens Mac
Sunlit Qasandra

NUCH DKUCH SEU(U)CH


Adoreas Red Kindra

DKCH SECH(U) NOCH NORDCH INTCH(U) DEVDHCH DKJV12 NORDJV12 KLBV13 DEVDHESG15


Redforesthunter Wallace
Can/Am CH Seastar's Roaneden Darkwater WC JH CD
MBIS BISS Am/Can Grand CH Kylador's Bustin Thru Th'reeds CGC ADC AGI WCI CD JH JAM ROMX
AKC/CKC/NSDTRC/ARBA CH Seastar's Sadie Hawkins CD JH WCX Can WCI VC JAM ROM
LP1 LP2 LP3 DKLPCH TJP(DK) Shaggy Tollers Offshore Bine
Marshland's Offshore Adventure
VV-03 DKCH VDH-D CH SU(u)CH Hedera's Mizzy Lizzy
NORDW-18 NUCH SEU(U)CH DKUCH
Adoreas Red Gossip Girl
NUCH
Lauvstuas Jimmi Fox Taikapoika
NUCH SEUCH
Nitric Fox Approved

Alcara-Taika Pippi

NUCH SEU(U)CH DKUCH Danish Winner-13 Adoreas Red Caprice
DKUCH SEU(U)CH Tuldahl's Noah
NUCH SEU(U)CH Adoreas Red Alpha
Requirements for Adorean puppy buyers: Kennel Adorea only sell puppies to active people who have thought carefully trough what it means to have a Toller. The Toller is an active breed that I believe is not suitable for people who just want a calm family dog. The Toller is a cute and sweet dog, and many people therefore falls solely for the look and size. The Toller is a dog that deserves to be worked with, and they will then be a more harmonious and happy dog. You must be able to take a holyday or have the opportunity to bring your puppy to work the first time after delivery. The next few months you also must have arranged so that the puppy will not be home alone all day. You must check if anyone in the family are allergic before you even consider to buy a puppy. You must have time to activate and socialize your puppy so it gets the best conditions in life. You must afford to give the dog quality food, equipment, dog courses, vet visits, vaccinations and insurance. You must x-ray the dog for HD and ED at approx. 12 months of age, and bring the dog to the vet when it needs it. You must give the dog a good, caring, active and permanent home. The dog must become a part of the family. I also want to meet you before deciding whether you get a puppy. Both you and I must feel that it's okay since we will be in touch for many years to come. Do you live very far north or abroad, we can use references. If you are on many puppy lists I would appreciate if you keep me informed about it, and let me know if you buy another puppy. We never know how many puppies there are, so nobody gets promise of a puppy before they are born. And we also want to see if they develop nicely the first week before we contact the ones on the puppy list. We put a lot of effort in socializing the puppies. They will meet all kind of people in all ages and sizes. We have 3 small kids that take great part in their weeks here at Adorea. Meet different dogs and sometimes other animals. They will also drive a lot of car so they will be confident with that on their journey to their new homes. From the birth to they are 2 weeks old they live in a puppy pen in a silent, calm room. From the age of 2 weeks and up to delivery they live in the living room. They will also spend a lot of time outside exploring lots of things, sounds and places. Kennel Adorea decide when the pups are around 7-7,5 weeks old who's going to witch home. To help us make that choice easier, we have to know what you have planned to do with your dog. Go to shows, hunting training, agility, field tracking etc. The puppies will be delivered with: NKK`s (Norwegian Kennel Club) buyers contract, pedigree, veterinary certification, implanted ID tag as well as follow ups/contact with us as long as the dog lives. You can follow their everyday life from the birth up to delivery in a puppy blog. I hope the buyers will send many pictures and information about their pups growing up. If you are interested in a pup from Kennel Adorea, send us an e-mail where you tell all about yourself (all the family members), just why you want a Nova Scotia Duck Tolling Retriever, and what you want to do with your dog. What kind of life can you offer your dog