NUCH SEU(U)CH DKUCH Danish Winner-13 Adoreas Red Caprice
Born: 29.03.2009
Sire: DKUCH SEU(U)CH Tuldahl's Noah
Dam: NUCH SEU(U)UCH Adoreas Red Alpha
Hips: A
Elbows: A (0)
PRA: B CEA: A
Eyes: Clear (24.11.2014)
Results: Norwegian, Swedish and Danish Show Champion. Danish Winner 13. Vice World Winner 10 (2nd best junior bitch). Vice Nordic Winner 10 (2nd best bitch). Vice Norwegian Winner 11 (2nd best bitch). Danish Winner title 13. At her 2nd World Dog Show, in 2014, she became 3rd best Champion Bitch. Obedience results: NKK's Bronze Mark. Agility results: 12th place with 10 faults, 14th place (out of 29) with 2 faults.
Litters: 1
Pictures: HERE Caprice's page: HERE
NL CH NL youth CH Kasomor's Roy to Cashel Vale
Born: 04.08.2012 in Canada
Sire: HRCH U-UD NSDTR US AKC CH Springvale's Roy'll Flush CDX MH WCX
Dam: OTCH CH Kasomor's Wack 'Em N Stack 'Em SH WCX CGN
Hips: A
Elbows: A (0)
PRA: A
CEA: A
Eyes: Clear (06.02.2014)
JADD: A Probable Clear
Results: Dutch Champion. Dutch Youth Champion. Best of Breed Hunting club diploma C.
Litters: 3
Roy's page: HERE!

We got 7 puppies the 17th of February 2015! 3 girls and 4 boys! Follow them in the puppy blog HERE!
The mum to Adorea Red J-litter is our star Caprice. Caprice is my once-in-a-lifetime dog! So sweet and cuddly and so fun to work with. If I could ask for anything more in this great dog it must be that she could be a bit tougher. Caprice is an easygoing girl with a wonderful temperament and a very well built body. She easily gained both her Norwegian and Swedish champion title just 2 years and some months old. She has done very well in the showring and she is a joy to show. She is a showdog and she has been that since her first puppy show. She gained Best of Breed with NKK CAC (cert) at her first show as a junior.
Caprice is a great allround dog. She has been trained and competed in Agility. She gained NKK's bronze mark in obedience when she was 1,5 years old. We have trained some blood tracking and she showed great promise. Summer 2010 we attended a first hunting course and that vent really well. The coach said this about our girl: «She is a hard worker who does not give up». It was so much fun!
Caprice is mom to our successful G-litter.
Sire to our J-litter is the wonderful Canadian import to the Nederlands; Roy. Roy has an well built body, long coat and a lovely head. According to his owner Helma he is a very vertasile working dog. Helma says that he is the most friendley male you can imagen, very easy to train, and very eager worker specialy hunting. He has so far got the Hunting Club Diploma C. He is known for his very good temperament, and that combined with his very exciting pedigree is why we choce him to our Caprice.
Here is a picture (borrowed from Kasomors homepage) of Roy's lovely mom. You can read about her HERE!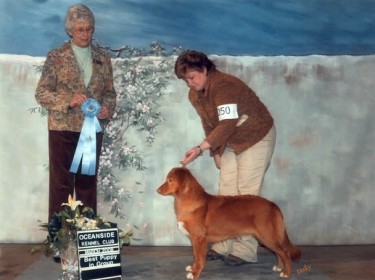 ---
The puppies will preferably be sold to puppy buyers who want to work with their dog. Whether obedience, agility, tracking or hunting training. A Toller that uses both head and body is a happy Toller! Send us an e-mail at gunntove@hotmail.com if you are interested.
All the pups shall have a name that starts with «J»!
Vi søker fôrvert på Sørlandet for en tispevalp. Mer info HER! HER ble jeg intervjuet i Hundesport om det å være fôrvert.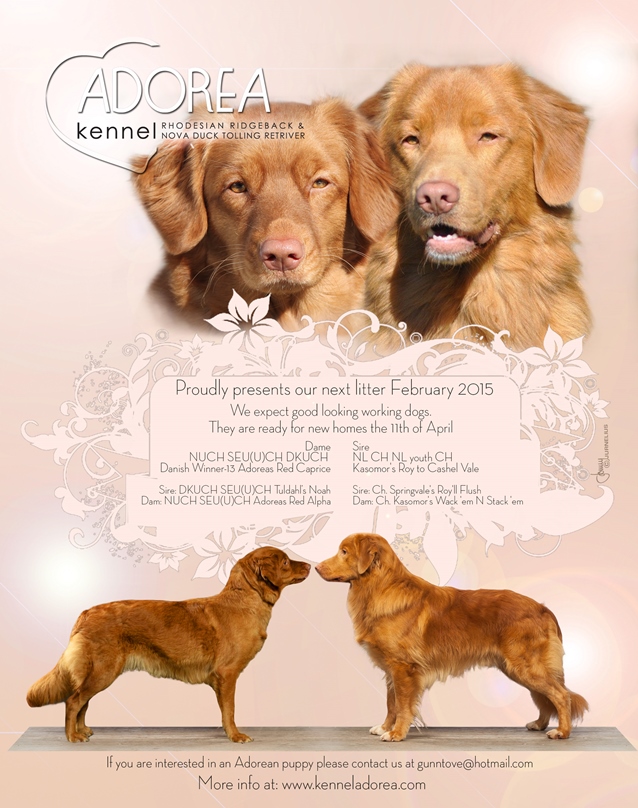 ---
Pedigree Adoreas Red J-litter:
NL CH NL youth CH Kasomor's Roy to Cashel Vale

HRCH U-UD NSDTR US AKC CH Springvale's Roy'll Flush CDX MH WCX

Can Ch
Glenmaurs Casey of Elias
WC MADC AAD FM
Ch. Harbourlights Rip Tide
Ch. Westerlea's Sprig of Holly
BISS CAN/US CH
Sagewood's Silver Shadow
CDX WC
Ch. Westerlea's Mountain Echo
Ch. Westerlea's Audacious Wave

OTCH CH Kasomor's Wack 'Em N Stack 'Em SH WCX CGN

Can Ch Seabright's Red Alert WCI JH AGX AADC SGDC CD
Ch. Berdia's Shylo So High
Ch. Foxgrove Set Sail for Ruaview
Ch Westerlea's Kasomor Trio CDX WCX SH
Westharbour's Roter Jaeger
Ch. Jagador's Sophie Mahone

NUCH SEU(U)CH DKUCH Danish Winner-13 Adoreas Red Caprice

DKUCH SEU(U)CH Tuldahl's Noah
NORDUCH NUCH DKCH SU(U)CH SV05 NORDV08 Lauvstuas Mascot Keehnu
DKCH DEVDHCH DECH Hyflyer's Invincible Max
NUCH NVCH SVCH Lauvstuas Karmenzita
Happy Trails Frieda Jenten
Happy Trail´s Commander Douglas
River Ducks Unika Desti

NUCH SEU(U)UCH Adoreas Red Alpha

NORDCH DKCH SU(u)CH FINCH NUCH DKKC07 DKJUBV07 Andelokkerens Røde Oskar
UVV98 EUV99 DKCH NUCH KBHV99 KBHV01 Shaggy Toller's Great Gizmo
Tueholt Red Rhapsody In Blue
NUCH SEU(u)CH Logrekroken´s Belle Kimba
Sunlit Nils Nickolay Zilver Kess
Jenwill´s Nadia Divisi
Requirements for Adorean puppy buyers: Kennel Adorea only sell puppies to active people who have thought carefully trough what it means to have a Toller. The Toller is an active breed that I believe is not suitable for people who just want a calm family dog. The Toller is a cute and sweet dog, and many people therefore falls solely for it's looks and size. The Toller is a dog that deserves to be worked with, and they will then be a more harmonious dog. You must be able to take a holyday or have the opportunity to bring your puppy to work the first time after delivery. The next few months you also must have arranged so that the puppy will not be home alone all day. You must check if anyone in the family are allergic before you even consider to buy a puppy. You must have time to activate and socialize your puppy so it gets the best conditions in life. You must afford to give the dog quality food, equipment, dog courses, vet visits, vaccinations and insurance. You must x-ray the dog for HD and ED at approx. 18 months of age, and bring the dog to the vet when he needs it. You must give the dog a good, caring, active and permanent home. The dog must become a part of the family. I also want to meet you before deciding whether you get a puppy. Both you and I must feel that it's okay since we will be in touch for many years to come. Do you live very far north or abroad, we can use references. If you are on many puppy lists I would appreciate if you keep me informed about it, and let me know if you buy another puppy. We never know how many puppies there are, so nobody gets promise of a puppy before they are born. And we also want to see if they develop nicely the first week before we contact the ones on the puppy list. We put a lot of effort in socializing the puppies. They will meet all kind of people in all ages and sizes. Meet different dogs and other animals. They will also drive a lot of car so they will be confident with that on their journey to their new homes. From the birth to they are 2,5 weeks old they live in a puppy pen in a silent, calm room. From the age of 2,5 weeks and up to delivery they live in the living room. They will also spend a lot of time outside exploring lots of things, sounds and places. Kennel Adorea decide when the pups are around 7 weeks old who's going to witch home. To help us make that choice easier, we have to know what you have planned to do with your dog. Go to shows, hunting training, agility, field tracking etc. The puppies will be delivered with: NKK`s (Norwegian Kennel Club) buyers contract, pedigree, veterinary certification, implanted ID tag as well as follow ups/contact with us as long as the dog lives. You can follow their everyday life from the birth up to delivery in a puppy blog. Here is the puppy blog from our last litter. I hope the buyers will send many pictures and information about their pups growing up. If you are interested in a pup from Kennel Adorea, send us an e-mail where you tell all about yourself (all the family members), just why you want a Nova Scotia Duck Tolling Retriever, and what you want to do with your dog. What kind of life can you offer your dog?