Female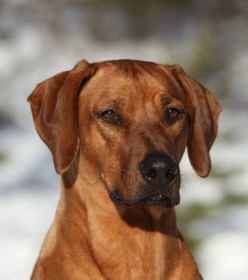 Born: 28.02.12
Dam: NORD JW-10 Adoreas Ridged Arwen
Sire: SEUCH SEVCH That's Why He Is Arjuna
Health: HD: A,  ED: 0,  DM: Carrier,  EAOD: Free

Results: BOS with CAC August 2013. 2 CAC. BOS puppy at the little Ridgeback Specialty August 2012. Best in Show puppy (all breed show) sept 2012.
Training: Agility, Tracking and Weight Pulling.
Breeding rights: Kennel Adorea
Living on breeders terms with Merete and family in Tvedestrand, together with mom Adoreas Ridged Arwen. She also spends lots of time with aunt Almea, sister Chloe, half sister Escada and niece Gea.
Mom to our fantastic F-litter
Photo album: HERE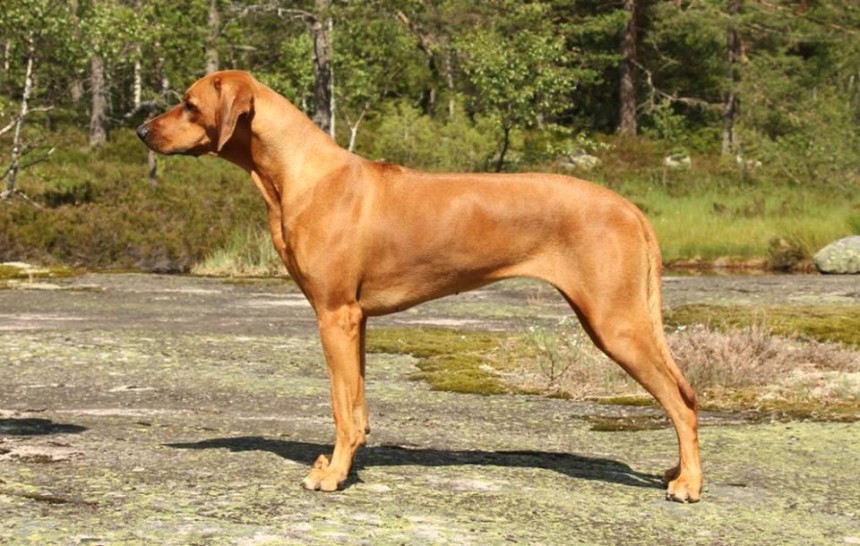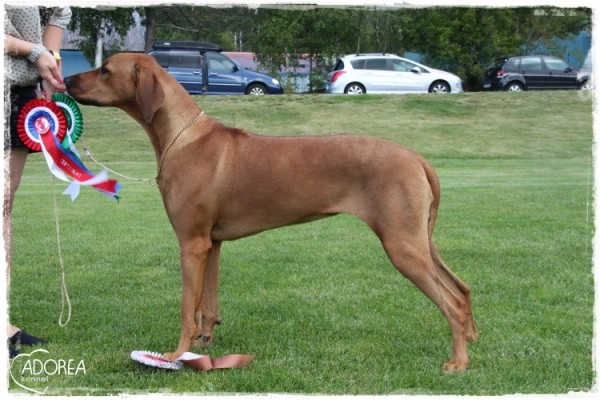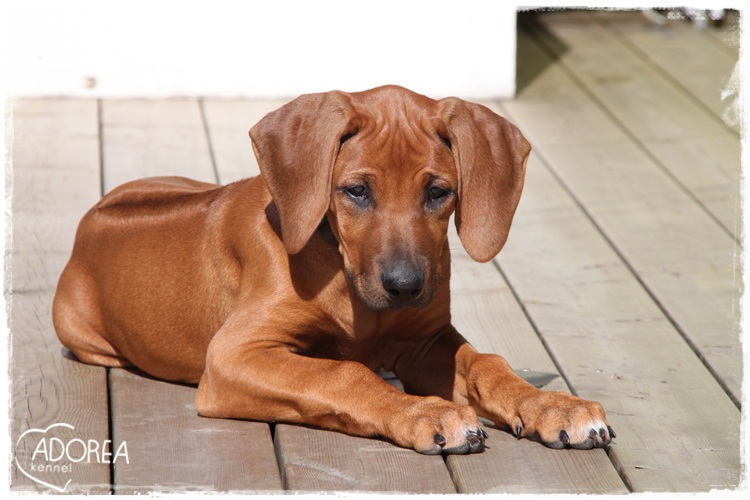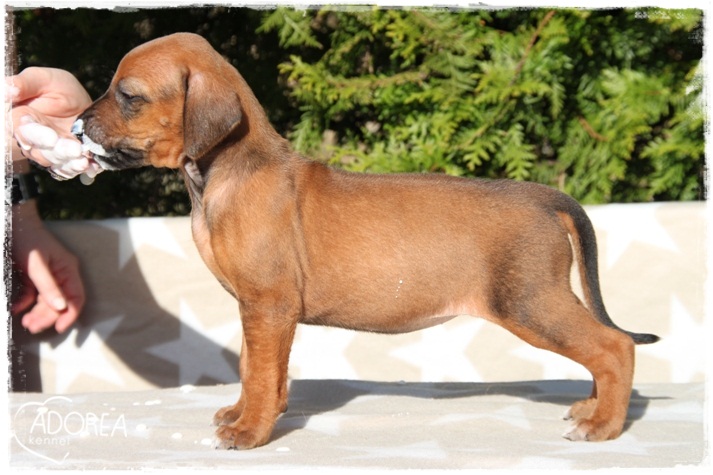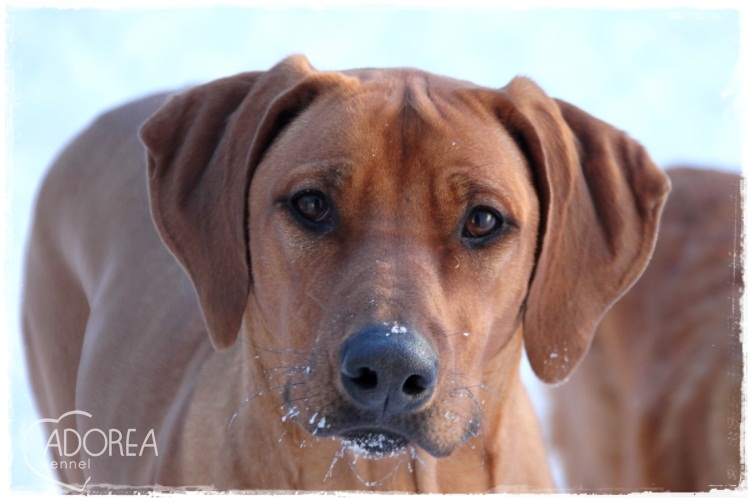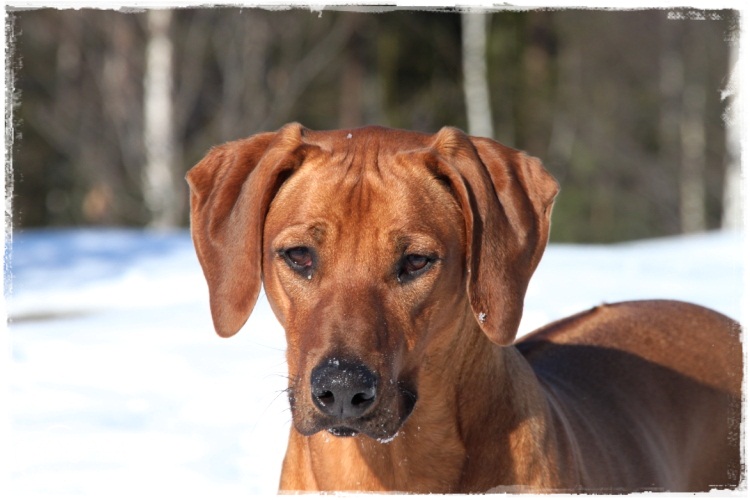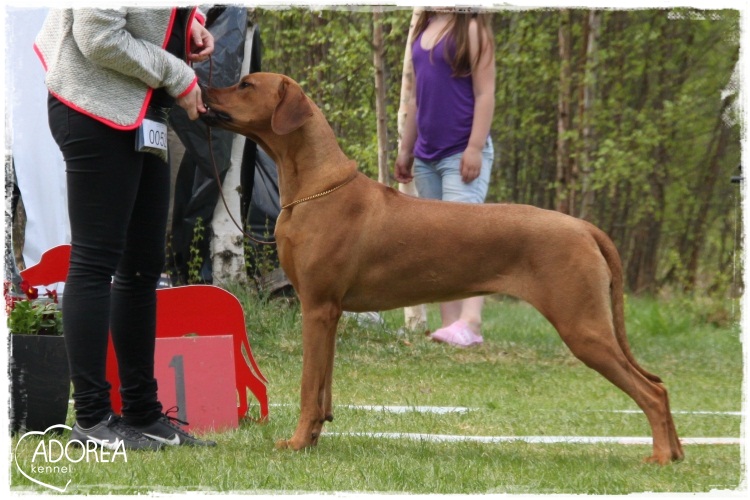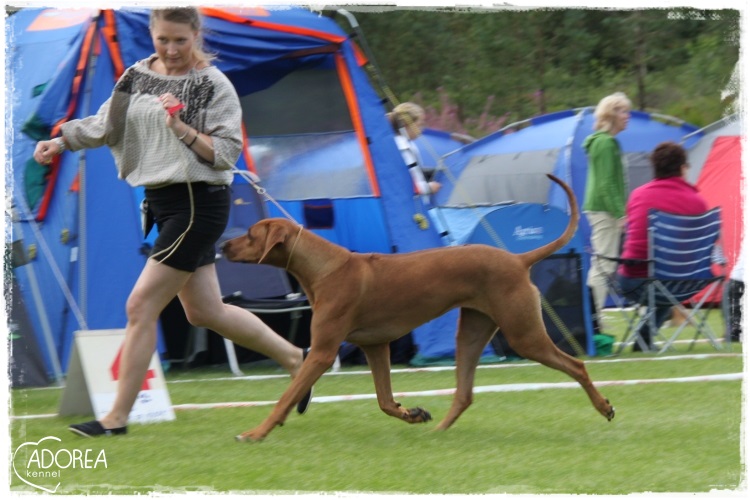 Pedigree:
SEUCH SEVCH
That's Why He Is Arjuna
Makker
That's Why He Is Wa-Wa
Chywanja Arik
NLCH
That's Why She
Is Twice As Nice
Dancer
Dencel
Maroc Sweetheart
Mzazi's Guinevere
Nashira's Excalibur Of Ridgelea
USCH
Ridgelea's General Tyvader
Mshindaji's Natasha
That's Why She Is Wish' Come True
Chywanja Arik
NLCH
That's Why She
Is Twice As Nice

NordJW-10
Adoreas Ridged Arwen

SUCH NUCH SV-04
Djungelkattens Wasco
Da Persbrandt
BISS-01-05 INTUCH
NORDUCH DKUCH NV-01-02
LUXUCH KBHV-03-04
Ukukhanya Scout The Red Baron
USCH
Karoskloof Bayezana Naka
USCH
Nomvuyo Tikkun
NORDUCH FinV-03
Zumeli's Ashiki
SUCH
Marsabit Melikora
DKCH SCH WW94 EUW94
EUW95 PCH DCH(VDH) LP1
Kijasaman Dikimba Zuri
Rex Ventors Mea Adorea
SUCH SVCH
Rex Ventors Jabailey
Fin Ch
Ozubi´s Royal Gala
Nyassa Legacy
SvCh Int Ch NordCh DKCh
PlCh NordJV-03 EUW-05-06
SV-05 NV-06 NORDV-06-08
Rex Ventors Helinn
MultAT SCCP Int Lux Ch
Chipangali´s Kadan
Nord Ch
Rex Ventors Daquila