Female
Born: 28.07.2009
Sire: SUCH NUCH SV-04 Djungelkattens Wasco da Persbrandt
Dam: Rex Ventors Mea Adorea
Hips: A
Elbows: A
DM: N/N (clear)
Results Exhibition: Nordic Junior Winner titel 2010. 2 CAC, 3 res.CAC and several best bitch placements. Open Class Winner Bitch at Danish Winner Show 2012. BOB and BIG-3 puppy.
Results Agility: Top winning Agility Ridgeback in Norway 2011 and 2012. 2 1st prizes in Agility Class 1. 1 1st prize in Jump Class 1. 1 Leg in Agility Class 1 and 1 Leg in Jump Class 1. NKK's Silver tag in Agility. 4th best Agility dog (all breeds, together with sister Almea) out of 30 attending dogs in Agility Cup Sørlandet 2011.
3rd best Versatility Rideback in Norway 2012 and 4th best in 2011. Link to the 2012 list HERE.
Breeding: Mom of Adoreas C litter. Will have her next litter in 2014 here at Kennel Adorea. Is now mated!!!
Living on breeders terms with Merete and family in Tvedestrand. Spending lots of time with sister Almea and her daughters Chloe and Cola.
Photo album: HERE!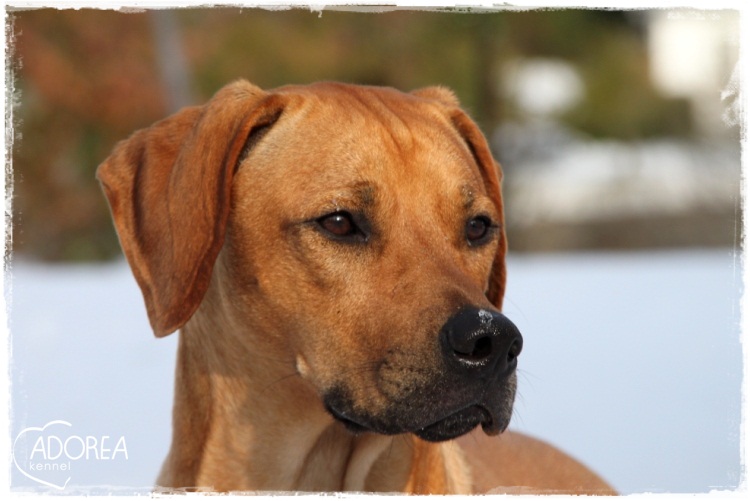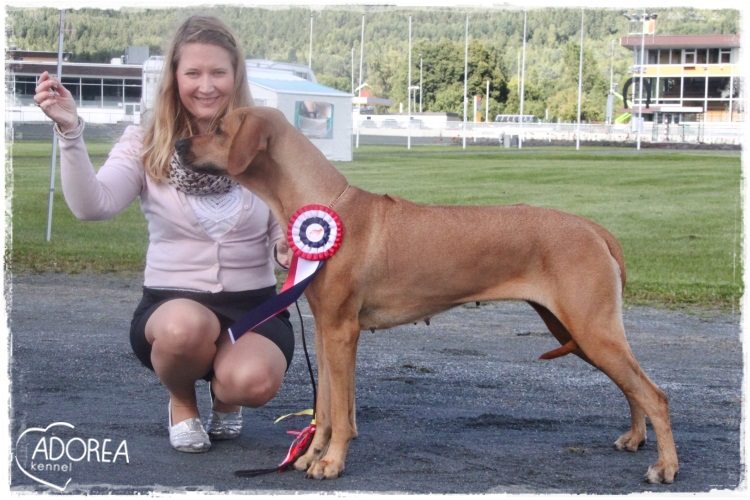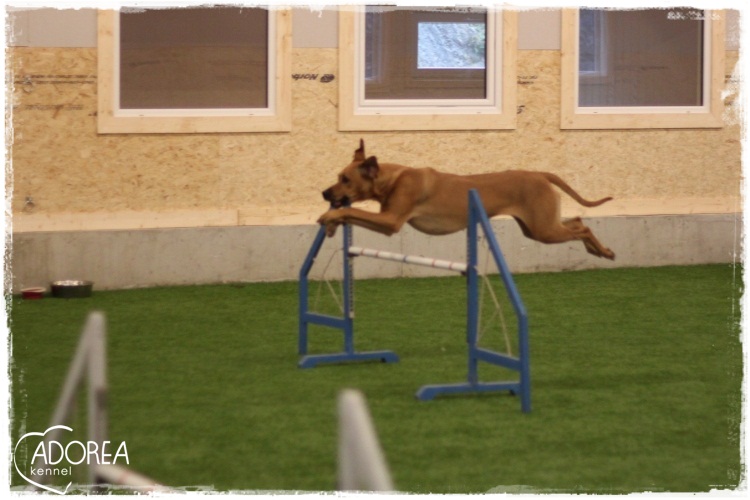 Pedigree:
SUCH NUCH SV-04
Djungelkattens Wasco Da Persbrandt
BISS-01-05 INTUCH
NORDUCH DKUCH NV-01-02
LUXUCH KBHV-03-04
Ukukhanya Scout The Red Baron
USCH
Karoskloof Bayezana Naka
ZACH
Kulima Love That Red Of Karoskloof
ZACH
Karos Nomsa Of Karoskloof
USCH
Nomvuyo Tikkun
Nomvuyo Kwesi
ZACH
Delphia Delishus Monsta Of Nomvuyo
NORDUCH FinV-03
Zumeli's Ashiki
SUCH
Marsabit Melikora
AUCH
Trezridge Uekoto
Ulundi Ushaba
DKCH SCH WW94 EUW94
EUW95 PCH DCH(VDH) LP1
Kijasaman Dikimba Zuri
DKUCH KBHV-91-92
Mushana Jango
DKUCH KBHV-92-93-95
Kijasaman Bine

Rex Ventors Mea Adorea

SuCh SvCh
Rex Ventors Jabailey
Fin Ch
Ozubi´s Royal Gala
GB Ch
Vizara Shemesh of Shaban
Ozubi´s Kukumbuka Dubu
Nyassa Legacy
GB Ch
Rex Ventors Beks at Nyassa
Kwekwe Kula of Nyassa
SvCh Int Ch NordCh DKCh
PlCh NordJV-03 EUW-05-06
SV-05 NV-06 NORDV-06-08
Rex Ventors Helinn
MultAT SCCP Int Lux Ch
Chipangali´s Kadan
Int MC Ch
Tandiwe Merigal´s Mad Gamble
AT Int Ch
Agnes Visconte de Simon
Nord Ch
Rex Ventors Daquila
Holl Lux Ch
Guus of Bo Kama
Multi Ch Multi Winner
Bearstar Diamond Willow