We have 9 puppies born the 18th of January 2018.
They are ready for new homes the 15th of March 2018.
If you are interested in a puppy, send us an e-mail at gunntove@hotmail.com! Link to the PUPPYBLOG were all the pictures of the pups will be published!
Vi søker fôrvert og/eller deleier til tispe og hannvalp. Les mer om det HER!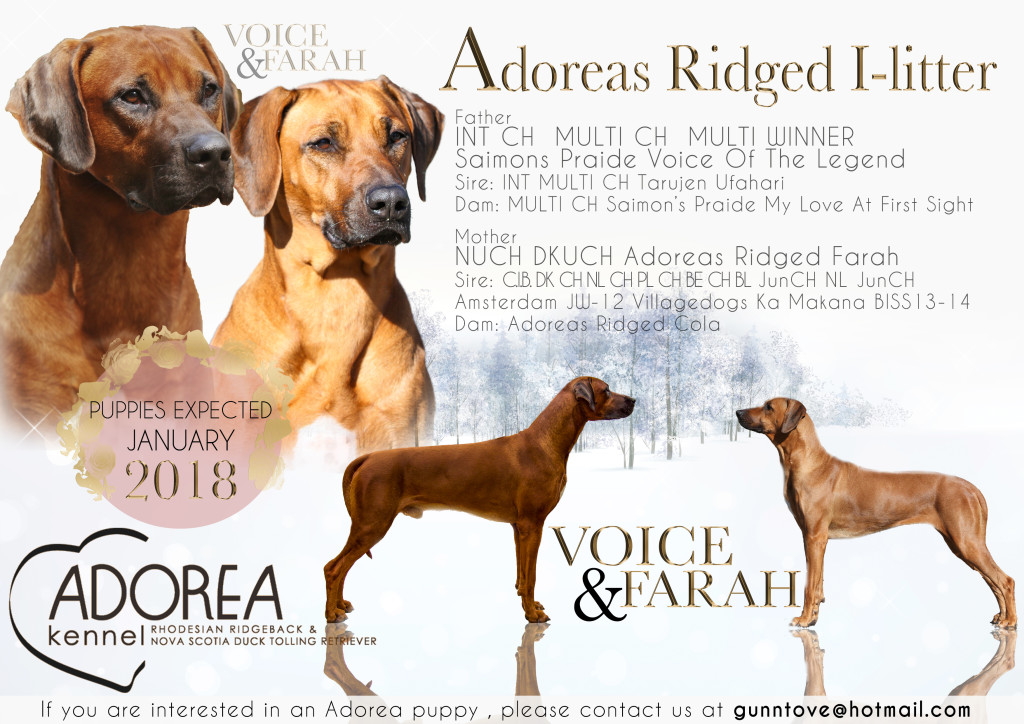 NUCH DKUCH
Adoreas Ridged Farah
Born: 06.12.2014
Sire: C.I.B. DK CH NL CH PL CH BE CH BL
JunCH NL JunCH Amsterdam JW-12
Villagedogs Ka Makana BISS13-14
Dam: Adoreas Ridged Cola
Hips: A
Elbows: 0
DM: N/A (carrier)
EAOD: High Confidence Clear (by parents)
JME: Clear
Dental status: Correct bite, full set of teeth
Results: Norwegian Champion and Danish Champion.
3rd Best Bitch (out of over 50 bitches) at the
big Circuit Show in Norway before the Ridgeback
World Congress in 2016. And 4th Best Junior Bitch
at the big Circuit Show in Sweden after the
Ridgeback World Congress in 2016.
4th Best Bitch at Copenhagen Winner 2016.
Her page: HERE
Pictures: HERE!
INT CH MULTI CH MULTI WINNER
Saimon´s Pride Voice of the
Legend Forever
Born: 11.07.2012
Sire: INT CH MULTI СН MULTI WINNER Tarujen Ufahari
Dam: MULTI СН MULTI WINNER
Saimon´s Pride My Love at First Sight
Hips: A
Elbows: 0
DM: Normal N/N (free)
D-locus (Dilution): D/D (not carrier)
Hemophilia B (Factor IX): genotype X(N)/Y (not carrier)
Dental status: Correct bite, full set of teeth
Results: Russian Jr CH, Estonian Jr CH, Belorussian Jr CH,
Ukrainian Jr grand CH, Russian CH, RKF CH,
Slovenian CH, Belorussian Grand CH, Ukrainian CH,
Lithuanian CH, Latvian CH, Estonian CH, Baltic CH
Fin CH
Voice's homepage: HERE
Pictures: HERE!
Adorea's hopes and expectations is that this combination will give us goodlooking and healthy Ridgebacks with good temper.
Farah is our next girl out to have puppies, and she is going to have her first litter in January 2018. She is 3 years old,
but she has tonns of experience in raising puppies. She is the best puppy sitter when we have litters. She could sleep inside the puppypen with Toller pups crawling all over her. She is also the most patient «big sister» to our 2 small sons. They love her above everything!
She has a wonderful temperament. So kind and friendly towards all, and so easy to live with. She loves to cuddle up in our bed, and to run i the woods. She has taken a course in weight pulling.
She is the kind of dog that everyone can take for a walk. And she has many people in her life that love to borrow for trips to the forrest or to the mountain. With their dogs or alone.
Farah has done really well in the show ring, despite of limited showing. She easily got her champion titles on her first try in both Norway and Denmark.
Farah is from our fantastic F-litter of 12 puppies. Read more about them (and see lots of pictures) in the F-litter-blog. All of the puppies that are x-rayed in the litter (8) are free on both hips and elbows.
Voice is one of the most eyecatching males I have seen. When I saw pictures of him at Facebook I always had to check what male that was. And when I found out that I have been in the showring with him, he was nr 2 and Barclay was nr 3 in Open Class at World Dog Show in Helsinki 2014, I was thrilled. I remembered him as stunning and that I wondered why he didn't win his class.
Voice is well known for his good mentality, and he is a proven stud.
He has lots of really good dogs in his pedigree, and I'm so happy to be able to use him on our Farah.
A big thank you to Voice owner Ekaterina Podskrebkina for letting us use Voice in our breeding, and to Ann Kristin Stubberud for letting us buy the semen.

If you are interested in more info, or just have some questions, don't hesitate to contact us at e-mail: gunntove@hotmail.com of phone: +47 41228134
Link to the puppy blog for this litter: HERE!
All the puppies shall have names that start with «I»
Vi søker en fôrvert/deleier på Sørlandet for en tispevalp og en hannvalp. Ta kontakt for mer info! HER ble jeg intervjuet i Hundesport om det å være fôrvert.

Requirements for Adorean puppy buyers
Kennel Adorea only sell puppies to active people who have thought carefully trough what it means to have a Ridgeback. The Ridgeback is a dog that deserves to be activated, and they will then be a more harmonious dog.
You must be able to take a holyday or have the opportunity to bring your puppy to work the first time after delivery. The next few months you also must have arranged so that the puppy will not be home alone all day.
You must check if anyone in the family are allergic before you even consider to buy a puppy.
You must have time to activate and socialize your puppy so it gets the best conditions in life.
You must afford to give the dog quality food, equipment, dog courses, vet visits, vaccinations and insurance.
You must x-ray the dog for HD and AA at approx. 18 months of age, and bring the dog to the vet when he needs it.
You must give the dog a good, caring, active and permanent home. The dog must become a part of the family.
I also want to meet you before deciding whether you get a puppy. Both you and I must feel that it's okay since we will be in touch for many years to come. Do you live very far north or abroad, we can use references.
If you are on many puppy lists I would appreciate if you keep me informed about it, and let me know if you buy another puppy.
We never know how many puppies there are, so nobody gets promise of a puppy before they are born.
We put a lot of effort in socializing the puppies. They will meet all kind of people in all ages and sizes. Meet different dogs and other animals. They will also drive a lot of car so they will be confident with that on their journey to their new home.
The first weeks the pups will live in a puppy pen in a quiet room. When they turn 2-3 weeks they will move to the living room. They will experience lots of things and sounds in the house. When they are 5 weeks old we will start to drive car with the pups, and later go on adventurous trips with the pups. They will also spend a lot of time outside exploring lots of things, sounds and places. It's so important that they get socialized!
The puppies will be delivered with: NKK`s (Norwegian Kennel Club) buyers contract, pedigree, veterinary certification, dewormed 4 times, implanted ID tag, lots of info, as well as follow ups/contact with us as long as the dog lives.
Kennel Adorea decide when the pups are around 7 weeks old who's going to witch home. To help us make that choice easier, we have to know what you have planned to do with your dog.
You can follow their everyday life from the birth up to delivery in a puppy blog. Here is the puppy blog from one of our last litters. I hope the buyers will send many pictures and information about their pups growing up.
In every litter there can be born puppies that are not potential showdogs. They can have an extra crown in their ridge, they can have a kinked tail or they can be born without a ridge. They are as good as any, and we seek loving homes for them too.
Pedigree Adoreas Ridged I-litter:
INT CH MULTI СН MULTI WINNER
Saimon´s Pride Voice
of the Legend Forever
INT CH MULTI СН MULTI WINNER
Tarujen Ufahari
BIS BISS RUBIS Aust CH Lionsbane Hes the Boss
AUST CH
Zimbalooba Orion Bow
AUST CH
Usakose Thunder N´liting
Fin CH
Tarujen Osei
AM SAF ZIM CH
Camelot´s Technical
Knockout
FI CH JWW-00
Tarujen Jamila
MULTI СН MULTI WINNER
Saimon´s Pride My Love At First Sight
INT CH MULTI СН
Heshima Ya Kimba Grand Aquarius
De Leeuwenjagt Kilimanjaro
VDH CLUB IT CH
Heshima Ya Kimba Chakanyuka
INT CH MULTI СН
Vayomi Shakira of Saimon's Praide
MULTI СН
Gregory Darling iz Garema
Valeriya
Czaria Fanny

NUCH DKUCH
Adoreas Ridged Farah

C.I.B. DK CH NL CH PL CH BE CH
BL JunCH NL JunCH Amsterdam JW-12
Villagedogs Ka Makana BISS13-14
MCH BIS MBISS
Villagedogs Hot Topic
MCH
Ikimba Watimu
MCH
Ukukhanya Midsummer-night's Dream
MCH BISS EW'11
Pupukearidge Kela Kai O Villagedogs
CH
Starrridge African Knight
CH
Umkimzulu Indian Summer
Adoreas Ridged Cola
SEUCH SEVCH
That's Why He Is Arjuna
Makker
Mzazi's Guinevere
NORDJW-10
Adoreas Ridged Arwen
SUCH NUCH SV-04
Djungelkattens Wasco Da Persbrandt
Rex Ventors Mea Adorea