Adoreas Ridged N-litter!
13 puppies were born the 12th of July 2022. 8 boys and 5 girls (1 stillborn). 2 boys and 1 girl are livernosed (pink nose). 3 boys have 3 crowns in their ridge (one of them also have a kinked tail). All the others look correct so far. Send us an e-mail at gunntove@hotmail.com if you are interested in a Ridgeback puppy. Pictures HERE! The litter's puppy blog HERE!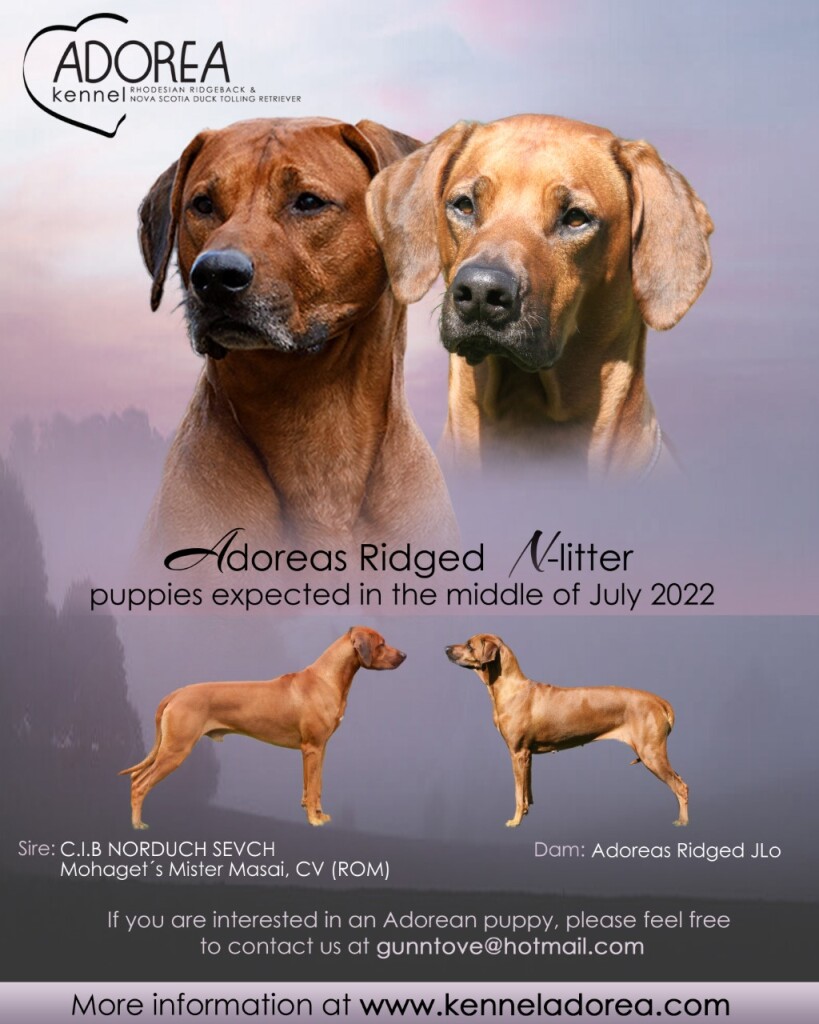 Mom-to-be JLo lives up to her famous name. She is a diva, and she has quite wide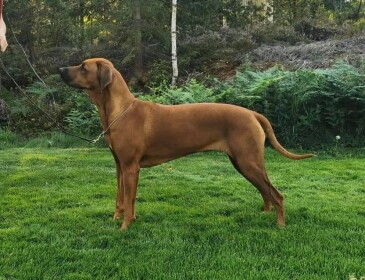 hips. JLo is a curious, playful, patient, happy and kind queen with a strong sense of justice. She has opinions, but can both discuss and lie flat. She is incredibly good with children, other dogs and people. Once you have become an acquaintance, she will be so happy to see you that she dances every time and is your faithful friend forever. She loves food and she loves being with her gang. She is very clear in her language, so it is easy to understand what she needs and what she wants. Very happy to be a part of everything. Hunting, hiking, camping, children's birthdays, city holidays, car holidays, training, etc. Love to run, play and be close to where it happens. She is a smart and humble lady with strong opinions.
Masai is one of my all time favourites! He was an eyecatching male with a great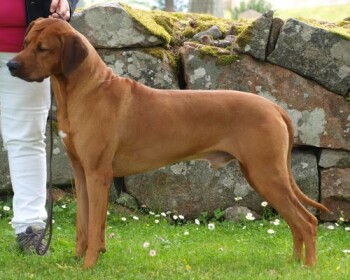 mentality. And he has with certainty given his qualities to his offspring. So many great dogs. I have several times seen stunning RR's on my Facebook feed, and then found out they are Masai's offspring. I've wanted to use Masai in my breeding program for many years, and I'm happy to finally expect puppies after him.

This will be Masai's second litter in Norway.
A big thank you to Johanna for letting us use some of the precious frozen drops after Masai!
If you are interested in more info, or just have some questions, don't hesitate to contact us at: e-mail gunntove@hotmail.com or phone +47 41228134
In every litter there can be born puppies that are not potential showdogs. They can have an extra crown in their ridge, they can have a kinked tail or they can be born without a ridge. They are as good as any, and we always seek non-show homes!
All the puppies shall have names that start with «N»
The pup`s first 8 weeks here at Kennel Adorea
We put a lot of effort in socializing the puppies. They will meet all kind of people in all ages and sizes. Meet different dogs and perhaps some other animals. They will also drive a lot of car so they will be confident with that on their journey to their new home.
The first weeks the pups will live in a puppy pen in a quiet room. When they turn 2,5 weeks they will move to the living room. They will experience lots of things and sounds in the house. When they are 6 weeks old we will start to drive car with the pups, and later go on adventurous trips with the pups. They will also spend a lot of time outside exploring lots of things, sounds and places. Our 3 kids will handle the pups from the beginning to their aparture. It's so important that they get socialized!
The puppies will be delivered with: NKK`s (Norwegian Kennel Club) buyers contract, pedigree, veterinary certification, dewormed, implanted ID tag, lots of info, as well as follow ups/contact with us as long as the dog lives.
Kennel Adorea decide when the pups are around 7 weeks old who's going to witch home. To help us make that choice easier, we have to know what you have planned to do with your dog.
You can follow their everyday life from the birth up to delivery in a album at Facebook. Here is the puppy blog from one of our last litters. I hope the buyers will send many pictures and information about their pups growing up.

Requirements for Adorean puppy buyers

Kennel Adorea only sell puppies to active people who have thought carefully trough what it means to have a Ridgeback. The Ridgeback is a dog that deserves to be activated, and they will then be a more harmonious dog.
You must be able to take a holyday or have the opportunity to bring your puppy to work the first time after delivery. The next few months you also must have arranged so that the puppy will not be home alone all day.
You must check if anyone in the family are allergic before you even consider to buy a puppy.
You must have time to activate and socialize your puppy so it gets the best conditions in life.
You must afford to give the dog quality food, equipment, dog courses, vet visits, vaccinations and insurance.
You must x-ray the dog for HD and AA at approx. 12- 18 months of age, and bring the dog to the vet when he needs it.
You must give the dog a good, caring, active and permanent home. The dog must become a part of the family.
I also want to meet you before deciding whether you get a puppy. Both you and I must feel that it's okay since we will be in touch for many years to come. Do you live very far north or abroad, we can use references.
If you are on many puppy lists I would appreciate if you keep me informed about it, and let me know if you buy another puppy.
We never know how many puppies there are, so nobody gets promise of a puppy before they are born.
Pedigree Adoreas Ridged N-litter:
C.I.B NORDUCH SEVCH Mohaget´s Mister Masai
CV (ROM)
ZA CH
Usakose Air of Success of Gondwana
Jomeja Tale of Thecat
NO V-01 SE UCH DK UCH NO UCH INT UCH LU CH Ukukhanya Scout The Red Baron
Jomeja Make Mine Red
AU CH Usakose Success Bydesign
US CH Mbadas Mhondoro of Iskandar
AU CH Usakose Flyin Firstclass
SE VCH Roseridge Red Rosetta
Corleo's Courrège
Corleo's Chirac
Corleo's Zamcolo
SE VCH Roseridge Rusticana
SE UCH Tolasana's Sitanka
Roseridge Reflexion

Adoreas Ridged JLo

MULTI CHAMP
Harmakhis Wisdom Aurora Falko Kai
RU CH SE UCH LU CH EUW-15 NUCH WW-16
Makao Line Atuin Art

LT CH RU CH BG CH


Makao Ngumo Namdi
Ursula Grand
Harmakhis Wisdom Quasha
IT SL AT INT RS HR VDH CH Pronkberg Makari
Gpe Ch Smr Harmakhis Wisdom Leeba
NUCH
Adoreas Ridged Chloe
SEUCH SEVCH
That's Why He Is Arjuna
Makker
Mzazi's Guinevere
NORDJW-10
Adoreas Ridged Arwen
SUCH NUCH SV-04
Djungelkattens Wasco Da Persbrandt
Rex Ventors Mea Adorea