Adoreas Red U-litter was born the 9th of September 2022. 2 boys and 4 girls.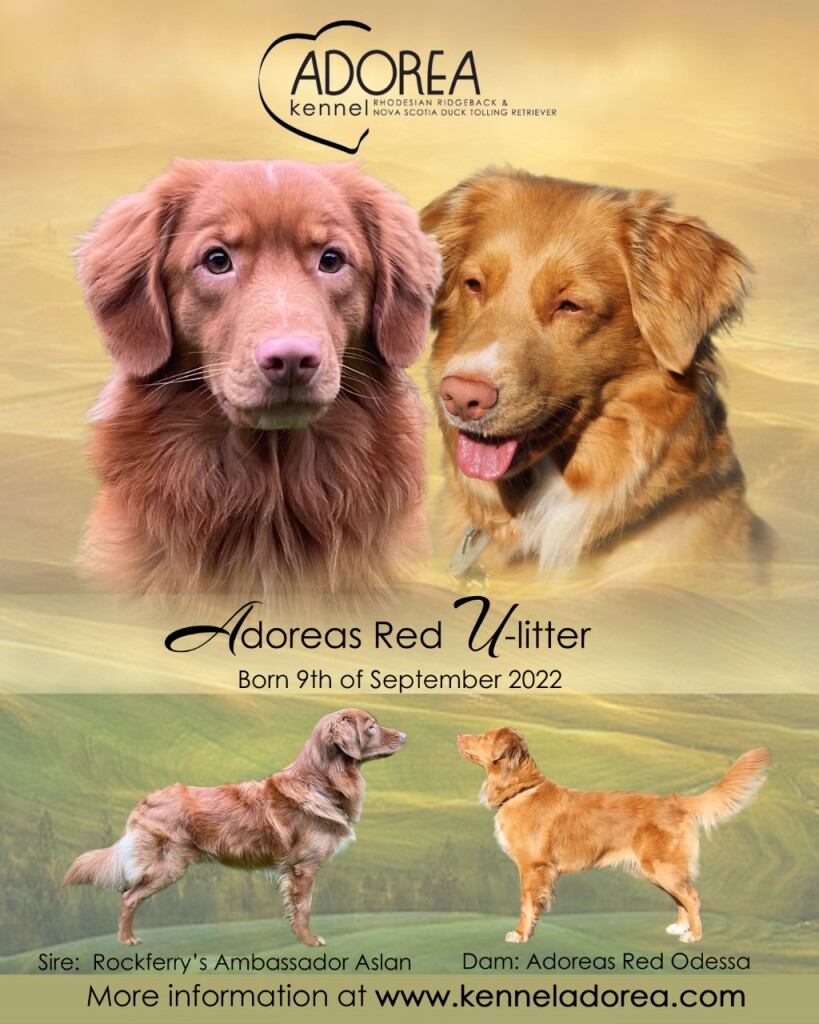 Adoreas Red Odessa

Rockferry's Ambassador Aslan

Born: 27.08.2017
Sire: CIE, DE CH, VDH CH, NL CH,NL Vet CH It's Dog Latin Pride and Joy Europasieger, Bundessieger, Leipzigseiger
Dam: C.I.E. NORDW-18 NVW-20 NVW-21 DKW-21 DKVW-21 NORDW-21 NORDVW-21 NUCH SEU(U)CH DKUCH RL1 RL2
Adoreas Red Gossip Girl
Hips: B
Elbows: A (0)
PRA: A
CEA: Clear by parentage,
DE: Clear by parentage
JADD: Clear by parentage
DM: Clear
Eyes: Clear (July 2022)
Results: Excellent 1 with CQ and reserve CAC at her 2 first shows.
Litters: 1 (Adoreas Red U-litter)
Odessa's page: HERE
 <3   <3    <3   <3

Born: 22.09.2019
Sire: C.I.E. DKCH SE(U)CH DEVDHCH KBHJV14 KBHV15 16 18 19 DKKV15 19 KLBJCH KLBCH KLBV15 16 17 18 19 RBM Redmound's Keep A Great Secret
Dam: NBSCH NCH NUCH SE UCH Catch First Hetti Garonera
Hips: A
Elbows: A (0)
PRA: A
CEA: Clear by parentage
DE: Clear by parentage
JADD: Clear by parentage
DM: Carrier
CDDY: N/CDDY
Eyes: Clear (April 2022)
Results: Bestått kvalifiseringsprøve i jakt,
2.PR & 3.PR IN TOLLINGHUNT BEGINNERSCLASS
Show: 2 x Excellent
Litters: 1 (Adoreas Red U-litter)
Aslan's page at Rockferry: HERE!
Mom to Adoreas Red U-litter is our sweet Adoreas Red Odessa. This is her first litter, and we are very excited to see her pups develope as we think Odessa is a bitch with some really high qualities. Kind, patient, very willing to learn and please, healthy and with a excellent body. Her mom was the famous Adoreas Red Gossip Girl with titles and wins as a long list. Her dad was the reputable It's Dog Latin Pride and Joy. He was known for his good temper, and his pedigree is not that common here in Scandianavia (except swedish Pepper de Chawu). Her littermates in Adoraes Red O-litter are all healthy (except Oro that just died of Kidney failure) and successful. Her sister Ona had a litter here at Adorea last fall, and they are all developing very nicely.

Sire to our U-litter is the handsome male Rockferry's Ambassador Aslan. I have always liked the litter he's from. Beautiful heads as the first that strikes me when I see them, good exterior and good working dogs. His owners describe him like this: «He is a dog that's an independent thinker. Very eager when he is searching and he does not give up until he is told to stop. Calm indoors and explosive when he is working in the fields. He has a significant off and on button! He lives with cats and everyone sleeps together. Incredibly fond of people, and doesn't particularly care about other animals. Always stays close to the owner on off-leash trips, and has never set off after wild animals. He doesn't make much noise, not almost even when someone knocks on the door». I think he sounds like the perfect Toller!


We expect playful working Tollers with a friendly temperament and with and excellent exterior out of this combination.

---
The puppies will preferably be sold to puppy buyers who want to work with their dog. Whether obedience, agility, tracking or hunting training. They must have a plan for their new puppy. A Toller that uses both head and body is a happy Toller! Send us an e-mail at gunntove@hotmail.com if you are interested.
All the pups shall have a name that starts with «U»!!! The puppy buyers decide the name, and we want the «U-name» to be their everyday name.

Vi søker flere deleier til dette kullet, og helst på Sørlandet. Mer info HER!
HER ble jeg intervjuet i Hundesport om det å være fôrvert.

Pedigree Adoreas Red U-litter:
Requirements for Adorean puppy buyers: Kennel Adorea only sell puppies to active people who have thought carefully trough what it means to have a Toller. The Toller is an active breed that I believe is not suitable for people who just want a calm family dog. The Toller is a cute and sweet dog, and many people therefore falls solely for the look and size. The Toller is a dog that deserves to be worked with, and they will then be a more harmonious and happy dog. You must be able to take a holyday or have the opportunity to bring your puppy to work the first time after delivery. The next few months you also must have arranged so that the puppy will not be home alone all day. You must check if anyone in the family are allergic before you even consider to buy a puppy. You must have time to activate and socialize your puppy so it gets the best conditions in life. You must afford to give the dog quality food, equipment, dog courses, vet visits, vaccinations and insurance. You must x-ray the dog for HD and ED at approx. 12 months of age, and bring the dog to the vet when it needs it. You must give the dog a good, caring, active and permanent home. The dog must become a part of the family. I also want to meet you before deciding whether you get a puppy. Both you and I must feel that it's okay since we will be in touch for many years to come. Do you live very far north or abroad, we can use references. If you are on many puppy lists I would appreciate if you keep me informed about it, and let me know if you buy another puppy. We never know how many puppies there are, so nobody gets promise of a puppy before they are born. And we also want to see if they develop nicely the first week before we contact the ones on the puppy list. We put a lot of effort in socializing the puppies. They will meet all kind of people in all ages and sizes. We have 3 small kids that take great part in their weeks here at Adorea. Meet different dogs and sometimes other animals. They will also drive a lot of car so they will be confident with that on their journey to their new homes. From the birth to they are 2 weeks old they live in a puppy pen in a silent, calm room. From the age of 2 weeks and up to delivery they live in the living room. They will also spend a lot of time outside exploring lots of things, sounds and places. Kennel Adorea decide when the pups are around 7-7,5 weeks old who's going to witch home. To help us make that choice easier, we have to know what you have planned to do with your dog. Go to shows, hunting training, agility, field tracking etc. The puppies will be delivered with: NKK`s (Norwegian Kennel Club) buyers contract, pedigree, veterinary certification, implanted ID tag as well as follow ups/contact with us as long as the dog lives. I hope the buyers will send many pictures and information about their pups growing up. If you are interested in a pup from Kennel Adorea, send us an e-mail where you tell all about yourself (all the family members), just why you want a Nova Scotia Duck Tolling Retriever, and what you want to do with your dog. What kind of life can you offer your dog!