2 boys and 3 Girls born the 14th of April 2014. Follow them in the PUPPY BLOG!

NUCH DKUCH Adoreas Red Embla
Born: 13.02.2011
Sire: NUCH Sunlit Ekiro Miramacs
Dam: Adoreas Red Bijou Coeur
Hips: A
Elbows: C (1)
PRA: A (Normal)
CEA: A
Eyes: Distichiasis (noen få ekstra øyehår på øyelokket)
Results: Norwegian Show Champion. Danish Show Champion.
Vice Danish Winner 12 (2nd best bitch). BOB and BOS at NKK's
International Shows.
Litters: 0
Pictures: HERE
Embla's page: HERE

CH SHR GAD's Quintessential KD Treasure JH CD WCX
Born: 06.01.2009
Sire:

HR AKC/NSDTRC/CKC CH KD's Cedar Keepsake RN JH WCI VC ROM


Dam: AKC/NSDTRC CH GAD's Hope of Spring with KD's BRT RN
Hips: A (OVC Normal)
Elbows: A (OVC Normal)
PRA: A
CEA: A
Eyes: Clear
CP1: A (Clear) JADD: A Probable Clear
Results: Best of Breed at Ontario Toller Specialty. Several BOB.
2nd best in Sporting Group (at a very big show with many of the
best dogs in Canada). A 3rd and a 4th in Sporting Group.
2x Best Puppy in Sporting Group.
Companion Dog Title and is now competing for his
Companion Dog Excellent.
Working Certificate, Junior Hunter and Hunting Retriever Started.
Litters: 5
Pictures: HERE
Quinn's page: HERE
Mom to our Adoreas Red I-litter is our lovely Embla. She was the very promising pup we chose from our E-litter and she has really lived up to our expectations. She is Norwegian and Danish Show Champion. Vice Danish Winner 12 (2nd best bitch). BOB and BOS at NKK's International Shows only 1 year old. She got the Danish CAC (Cert) at her first show in Denmark ever, at the big Danish Winner Show in 2012. She gained her Norwegian Champion Title at her 2nd show after she turned 2 years. What a girl!
But the most important thing she has to add to our breeding is her wonderful temperament. Kind and patient with everyone!
Every week she trains Agility in our local dog club.
Embla is PRA A (tested at OptiGen), and CEA A (by parentage). Embla has HD A (0), and most likely due to a fall from a big height when she was little she has a C (1) on one of her elbows. I've talked to the vet's about it, and we even took a new x-ray some months ago and according to the new pictures they are even more certain that it's because of the fall (she jumped out of a big height). The little shaddow in the picture is not as it would be if it was ED, and the shaddow haven't changed a bit from the first x-ray picture to the next over a year later. I even wanted to see if her siblings are ED:A (0) before I wantet do include her in our breeding program, and the ones that are x-rayed are A. Only one sister living up north that is not x-rayed yet, and a sister that died young of cancer.
Sire to our I-litter is the wonderful Candian Toller male CH SHR GAD's Quintessential KD Treasure JH CD WCX. Embla was inseminated (AI) the 11th of February.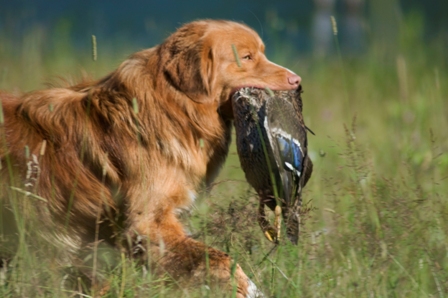 Thank's to Lauvstua Kennel that we could use the semen, and to Shelagh McDonald for letting us use your dog!
Quinn has an athletic structure with nice bone, nice front, lovely rear angles, beautiful movement and a good and very exciting pedigree. He is 20 1/2″ tall and weighs 50 lbs.
He is a very fun and happy dog that loves people – especially children. He is very affectionate and outgoing, and often smiles and wiggles his whole body when he meets new people!
Quinn has great working ability and a lot of drive to retrieve, with very good water courage. He is doing very well in his obedience training too. He is a dog of extremes – he has a lot of 'go', he's very athletic and fit and just loves to run – there's nothing better in the world for him than retrieving. He is a VERY driven retriever and is very talented in field training and earned 2 nice titles last year. He is a really easy dog to live with because he has a big off switch – he is very calm and undemanding in the house.
The puppies will preferably be sold to puppy buyers who want to work with their dog. Whether obedience, agility, tracking or hunting training. A Toller that uses both head and body is a happy Toller! Send us an e-mail at gunntove@hotmail.com if you are interested.

Vi søker fôrvert/deleier på Sørlandet for en tispevalp og en hannvalp. Mer info kommer, eller ta kontakt for mer info! HER ble jeg intervjuet i Hundesport om det å være fôrvert.
Pedigree:
CH SHR
GAD's Quintessential KD Treasure
JH CD WCX
HR AKC/NSDTRC/CKC CH
KD's Cedar Keepsake
RN JH WCI VC ROM
ARBA Ch
Westerlea Coast'l Tradewinds
CD RN WCI Can CD WC ROMX
Benili's Ghats
Can Ch
Westerlea's Jane Eyre
ARBA/UKC CH
KD's Scarlet Starlet
CD, ROM
SHR K.D.'s Ridin' The
Tradewinds CDX WCI
Danbury's Chesagrove Brida
AKC/NSDTRC CH
GAD's Hope of Spring with KD's
BRT RN
U-CDX AKC/NSDTRC CH
KD's Willie Brimstone
CDX, RE, NA OAP, NJP,
NFP,CGC, TDI, WC, VCX
ARBA Ch
Westerlea Coast'l
Tradewinds
CD RN WCI Can CD
WC ROMX
Christmas Carol ROM
AKC/NSDTRC CH
KD's Sparkling Ruby
RA WC JH
Guus Geluk From Nova's
Power
Sproul's Miss Power

NUCH DKUCH
Adoreas Red Embla

NUCH
Sunlit Ekiro Miramacs
NV-01 SE VCH
Rödrävens Mac
Westerlea's Rödräv of Drögsta
SEUCH Drögstas Cat-Ri-Ona
Sunlit Daniela Buck Micha
Flottatjärn's Buck's Browning
Sunlit Miss Micha
Adoreas Red Bijou Coeur
DKCH NUCH
Shaggy Toller's Zilver Zimba
DKCH DEVDHCH DECH
Hyflyer's Invincible Max
DKCH VV95 NLCH
EUV95 DEVDHCH
Shaggy Toller's Ayla-L-Ayla
NUCH SEU(u)CH
Logrekroken´s Belle Kimba
Sunlit Nils Nickolay Zilver Kess
Jenwill´s Nadia Divisi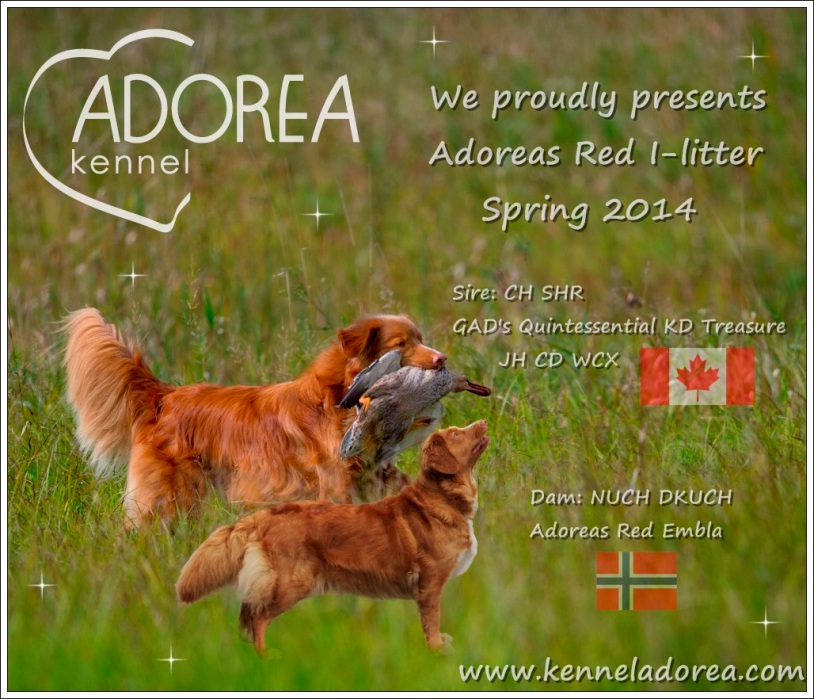 Requirements for Adorean puppy buyers:
Kennel Adorea only sell puppies to active people who have thought carefully trough what it means to have a Toller. The Toller is an active breed that I believe is not suitable for people who just want a calm family dog. The Toller is a cute and sweet dog, and many people therefore falls solely for it's looks and size. The Toller is a dog that deserves to be worked with, and they will then be a more harmonious dog.
You must be able to take a holyday or have the opportunity to bring your puppy to work the first time after delivery. The next few months you also must have arranged so that the puppy will not be home alone all day.
You must check if anyone in the family are allergic before you even consider to buy a puppy.
You must have time to activate and socialize your puppy so it gets the best conditions in life.
You must afford to give the dog quality food, equipment, dog courses, vet visits, vaccinations and insurance.
You must x-ray the dog for HD and ED at approx. 18 months of age, and bring the dog to the vet when he needs it.
You must give the dog a good, caring, active and permanent home. The dog must become a part of the family.
I also want to meet you before deciding whether you get a puppy. Both you and I must feel that it's okay since we will be in touch for many years to come. Do you live very far north or abroad, we can use references.
If you are on many puppy lists I would appreciate if you keep me informed about it, and let me know if you buy another puppy.
We never know how many puppies there are, so nobody gets promise of a puppy before they are born. And we also want to see if they develop nicely the first week before we contact the ones on the puppy list.
We put a lot of effort in socializing the puppies. They will meet all kind of people in all ages and sizes. Meet different dogs and other animals. They will also drive a lot of car so they will be confident with that on their journey to their new homes. From the birth to they are 3 weeks old they live in a puppy pen in a silent, calm room. From the age of 3 weeks and up to delivery they live in the living room. They will also spend a lot of time outside exploring lots of things, sounds and places.
Kennel Adorea decide when the pups are around 7 weeks old who's going to witch home. To help us make that choice easier, we have to know what you have planned to do with your dog. Go to shows, hunting training, agility, field tracking etc.
The puppies will be delivered with: NKK`s (Norwegian Kennel Club) buyers contract, pedigree, veterinary certification, implanted ID tag as well as follow ups/contact with us as long as the dog lives.
You can follow their everyday life from the birth up to delivery in a puppy blog. Here is the puppy blog from our last litter. I hope the buyers will send many pictures and information about their pups growing up.
If you are interested in a pup from Kennel Adorea, send us an e-mail where you tell all about yourself (all the family members), just why you want a Nova Scotia Duck Tolling Retriever, and what you want to do with your dog. What kind of life can you offer your dog?